Warehouse Exchange Adds to Potential Inventory
AWI partnership expands digital marketplace's reach as third-party space broker
Friday, December 8, 2017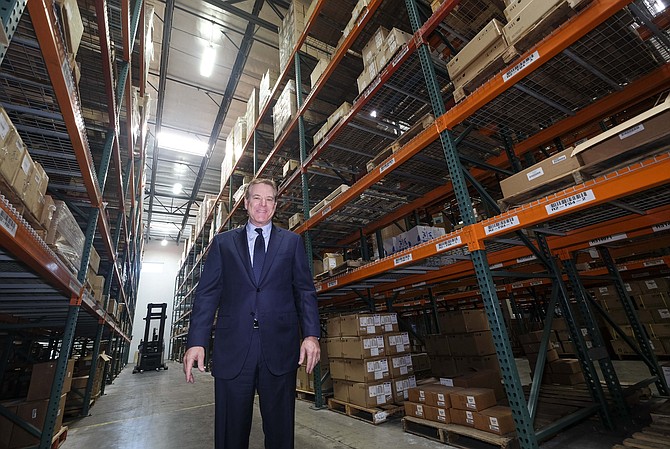 West Los Angeles-based Warehouse Exchange has struck a deal with a group of logistics companies to extend its "airbnb"-like warehouse rental platform nationally and internationally.
Warehouse Exchange's three-month-old digital marketplace connects landlords or tenants that have unused warehouse space with businesses that need to store products or cargo for short periods of time.
The company's new partner, Anaheim-based Associated Warehouses Inc., is a network of logistics services providers that together operate more than 500 shared and contracted warehousing facilities – at least 110 million square feet – across the U.S., Canada, Mexico and Europe, according to Mark Richards, vice president of AWI.
Warehouse Exchange had 20 facilities listed on its platform, for a total of around 450,000 square feet of available space across the West Coast and the Mid-West markets, prior to the link with AWI.
The deal represents a quantum leap for Warehouse Exchange in terms of the potential inventory of businesses that have extra space, said Jonathan Rosenthal, the founder of the startup, who also is co-managing partner of Sawtelle investment firm Saybrook Corporate Opportunity Funds.
"This was a natural partnership for us," Rosenthal said. "We're expanding our platform rapidly and are already getting inquiries from other warehouse and logistics consortiums that would like to be a part of this."
AWI gets a new service to add to its menu.
"We provide a one-stop shop for our clients who are looking for third-party logistics," Richards explained. "We see what Warehouse Exchange is offering and it's another way for people to get connected with the companies in our consortium."
Warehouse Exchange does not set pricing – it leaves the buyers and the sellers to negotiate their terms. A deal based on finding space for pallets, for example, might range from $6 to $20 per pallet. Warehouse Exchange would take 10 percent of the total value of the deal –5 percent each from the buyer and seller.
The arrangement has already attracted a local customer – AWI member State Logistics of Buena Park.
Capital Appeal
The Port of Los Angeles has launched portoflabonds.org in a bid to draw more private capital to infrastructure projects, port officials said.
The website launched last week, and combines cargo and financial data and other information for would-be bond investors and rating agencies.
Port officials said the long-term goal is to increase and diversify the roster of investors in the port's bond programs, with an eye on retail investors, local banks and wealth managers.
"This site consolidates investment opportunities, financial data and other resources needed to make informed decisions," Chief Financial Officer Marla Bleavins said in a statement.
The port currently lists six current projects on the website, including the TraPac container terminal, which recently expanded through a five-year, $510 million port infrastructure improvements program.
TracPac is a subsidiary of Japan-based Mitsui O.S.K. Lines Ltd.
Another project is the Yusen container terminal and Harbor Boulevard roadway projects.
The new online tool was developed by Boston, Mass.-based BondLink, a financial technology company.
"We're very proud to work with the Port of Los Angeles to increase its disclosure and transparency to the bond market," said Colin MacNaught, BondLink's chief executive, in a statement.
Giving Back
The Long Beach Board of Harbor Commissioners recently approved $3 million from its Community Grants Program to fund local health efforts.
The money will go towards helping residents in surrounding neighborhoods with respiratory and cardiopulmonary diseases.
"The port considers itself a part of this community, and we listen to our neighbors," said Tracy Egoscue, harbor commission vice president, in a statement. "The grants program was created in direct response to the community's advocacy," Egoscue added. "We're honored to help fund these projects to improve community health."
The port created the program in 2016 to help mitigate the effects of pollution from cargo movement, and is part of the $65 million the port has set aside for community health initiatives.
The recent funding round was the program's second this year so far. Commissioners in October awarded more than $743,600 to fund nine air filtration projects in Long Beach, Compton and Paramount, bringing this year's total amount given to community groups to $3.7 million, port officials said.
Staff Reporter Shwanika Narayan can be reached at snarayan@labusinessjournal.com or 323-556-8351.
For reprint and licensing requests for this article, CLICK HERE.