Patrick Soon-Shiong Innovation Awards 2017: WINNER - AIRMAP
Custom Content by the Los Angeles Business Journal
Tuesday, December 5, 2017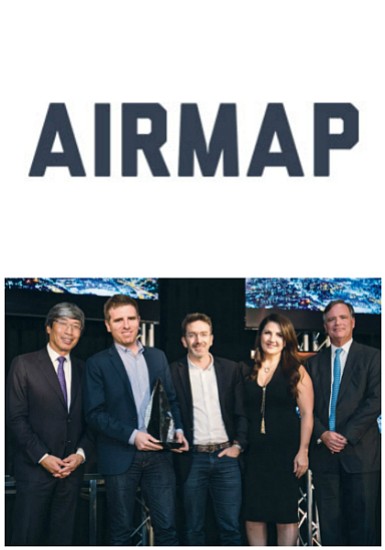 AirMap is a trailblazing leader in the creation of technology utilized in unmanned airspace. The company provides software and tools that allow drone operators, developers, airspace stakeholders and manufacturers to fly, build, and integrate safely and effectively.
Today, many of the world's drones are powered by AirMap. Leading drone manufacturers DJI, Intel, Sensefly, Aeryon Labs, and others power their drones with the Air- Map platform. AirMap's easy-to-use APIs and SDKs are available for Android, iOS, and Web.
Plus, AirMap's Digital Notice and Awareness System (D-NAS) delivers situational awareness to drone operators and airspace stakeholders. As a result, over 125 airports have implemented D-NAS to manage real-time digital notice of nearby drone operations, including the Houston Airport System.
AirMap's leadership team members are also very active in the evolution of drone regulation and policy. AirMap co-founder Greg McNeal served on the Federal Aviation Administration's Micro Unmanned Aircraft Systems Aviation Rulemaking Committee, and on the Federal Aviation Administration's UAS Registration Task Force, Aviation Rulemaking Committee. He is also chair of the Consumer Technology Association's working group for small drones and is a member of the ASTM Unmanned Vehicle Systems Committee. He testified before the Congressional Committee on Homeland Security's Subcommittee on Oversight and Management Efficiency back in March of 2016 on the topic of drone security and domestic use of non-military drones. More recently, he testified before the Subcommittee on Aviation for the hearing on "Building a 21st Century Infrastructure for America: Enabling Innovation in the National Airspace."
In June, McNeal and AirMap CEO Ben Marcus attended a meeting at the White House with President Trump on the topic of emerging technologies. Marcus is also co-chair of the FAA's Unmanned Aircraft Safety Team. In addition, AirMap participates in the NASAFAA UTM Research Transition Team, which tests UTM technologies.
For reprint and licensing requests for this article, CLICK HERE.