Corporate Citizenship & Giving Guide: The Leukemia & Lymphoma Society
Custom Content by the Los Angeles Business Journal
Monday, December 4, 2017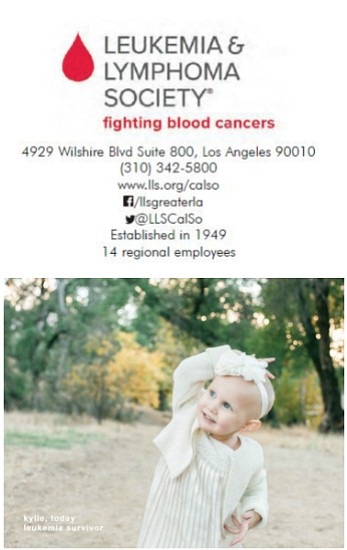 SERVICE AREA
The Leukemia & Lymphoma Society funds lifesaving cancer research here in Los Angeles and around the world and provides free information, support services and direct financial assistance to patients and families living in Greater Los Angeles County. To speak one-on-one with an information specialist, please call 1-800-955-4572.
MISSION STATEMENT
We Have One Goal: A World Without Blood Cancers
The mission of the Leukemia & Lymphoma Society is to cure leukemia, lymphoma, Hodgkin's disease and myeloma, and improve the quality of life for patients and their families.
LLS exists to find cures and ensure access to treatments for blood cancer patients.
COMMUNITY IMPACT IN 2017
• The Leukemia & Lymphoma Society funded more than $8 million in research at leading Los Angeles-based institutions including UCLA, USC, City of Hope, Cal Tech, Cedars-Sinai, and Children's Hospital Los Angeles.
• The Leukemia & Lymphoma Society provided $640,000 in direct financial support to 300 patients in Los Angeles to help with insurance co-pays and travel assistance.
LEADERSHIP

EXECUTIVE LEADERSHIP
Shannon Sullivan
Executive Director, California Southland Chapter
Shannon.Sullivan@lls.org
BOARD OF DIRECTORS
Chair – Jeff Hare, JH/PR
Vice Chair – Marc Friedenberg, MJF Management
Treasurer – Jeff Freedman, Ticketmaster
Secretary – Javier Rivera, Esq., Southern California Edison Co.
BOARD MEMBERS
Dr. Barbara Freedman, MFT
Virginia Garner
Sean Horvath
Carri McClure, McClure PR
Dr. Eric McGary, Kaiser Permanente
David Albert Pierce, Pierce Law Group LLP
Dan Rendler, Southern California Gas Company
FUNDRAISING EVENTS
Light the Night Walk – Light The Night is a powerful fundraising walk to support The Leukemia & Lymphoma Society. Light The Night brings together families and communities to honor blood cancer survivors, as well as those lost to cancer. www.lightthenight.org/calso
Team In Training – Join an elite team of marathoners, bicyclists, hikers and climbers that are helping to fight cancer with every race. www.teamintraining.org
Man & Women of the Year – The Leukemia & Lymphoma Society's Man & Woman of the Year campaign engages influential, compassionate community leaders to help find cures and ensure access to treatments for blood cancer patients. The 10 week fundraising competition culminates with a Gala celebration in June of each year. www.mwoy.org/calso
Students Taking Action to Help Cure Cancer – The Leukemia & Lymphoma Society's Student Series is a service learning fundraising project that takes place in K-12 schools across Los Angeles County. From Pennies for Patients to Student of the Year, find out how students can make a difference in the fight against cancer. www.studentseries.org/california-southland
Prev Next
For reprint and licensing requests for this article, CLICK HERE.