Madera Group Seeks Strategic Edge With M|O|M
Delivery-only concept seen as possible supplement to outfit's fast-casual chain
Friday, December 1, 2017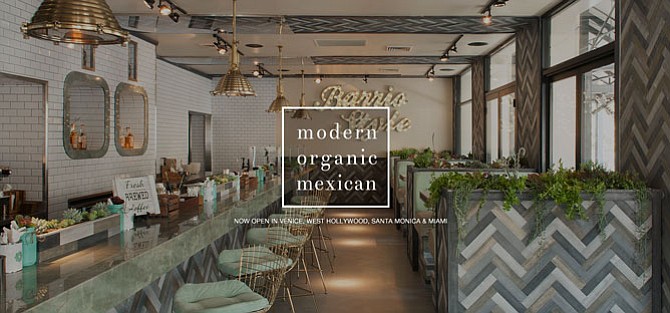 There's a new restaurant opening in town…minus the restaurant.
West Hollywood-based Madera Group – partial owner of upscale Mexican fast-casual restaurant chain Tocaya Organica and high-end West Hollywood Mexican sit-down restaurant Toca Madera – announced this month the launch of Modern Organic Mexican, or M|O|M.
It's a delivery-only Mexican kitchen with a menu that ranges from $4 servings of Mexican-style rice and $8 helpings of guacamole to $14 burritos. Delivery is available daily from 5 p.m. to midnight through the PostMates and UberEats apps.
M|O|M puts Madera Group in the growing trend of restaurant delivery, and restaurant analysts predict the concept will continue to grab a larger percentage of sales in the future as people cook less.
Tosh Berman, who owns Madera Group and M|O|M with partner Amrou Manaseer, said that customer demand for delivery from the company's six Tocaya Organica locations led them to try out the new concept. Take-out sales account for 30 percent to 45 percent of total revenue at each of the locations of the six-store Tocaya Organica chain.
"It's just a testament to the changing of the guard in the way that restaurants and hospitality services are evolving proactively," said Berman. "People want the ease and simplicity of food service with the push of a button at home."The Madera Group, which Berman and Manaseer founded about five years ago, has five Tocaya Organica locations in L.A. and one in Miami Beach, Fla., with plans to open 15 more next year in California and nearby states. Another five are already scheduled to open in Canada with an operator there in 2019, according to Berman.
The experiment with M|O|M might be a strategic complement for the expansion of Tocaya Organica, whose investors include Casamigos tequila founders' Rande Gerber and Mike Meldman, and Gerber's wife Cindy Crawford.
"Maybe we open 30 stores in L.A., but in mid-city we don't have the demographics to sustain a Tocaya store, but we do for third party take-out," said Berman.
Berman said he expects Tocaya Organica to generate around $100 million in sales by next November.
Madera Group also wants to expand its more upscale restaurant, Toca Madera, which it opened in West Hollywood three years ago. It has licensed the Toca Madera brand to an operator in Dubai which is scheduled to open the concept's second location next year, Berman said.
M|O|M's pricing puts it between the group's fast-casual and sit-down concepts in price, said Berman, noting Tocaya Organica's average ticket price of $17.50.
The Madera Group conceived of the M|O|M concept a few months ago after noticing a dip in sales at Tocaya Organica during big sporting events or other times when people tend to entertain or stay at home.
M|O|M might be able to use the hospitality group's other restaurant kitchens during off-times in order to save money, Berman said.
"In some cases Toca Madera may only be open for dinner," he said. "But we pay rent 24 hours a day."
M|O|M also could cut down on the number of staff, since there are no front-of-house employees and the company relies on outside delivery apps.
Madera Group employs several hundred full- and part-time workers across its three restaurant concepts. Its executives prefer to keep using third-party delivery apps rather than bringing delivery in-house.
Such apps usually charge the restaurant and the customer a fee for each order but Berman sees it an unnecessary hurdle at this point in the development of the concept.
"Trying to do everything at once is usually a mistake," said Berman.
See's Candies to Americana
The Carson-based candy brand owned by billionaire Warren Buffett's Berkshire Hathaway Inc. plans to open a new store at fellow billionaire Rick Caruso's Americana at Brand shopping center in Glendale this month.
The shop is among almost a dozen which the company plans to open or relocate by the end of this year, according to spokeswoman Julie Shapiro. The company has 240 locations across the country.
Charles A. See opened the first shop in 1921, according to the company's website. Berkshire Hathaway bought the company in 1972.
Staff reporter Caroline Anderson can be reached at canderson@labusinessjournal.com or (323) 556-8329.
For reprint and licensing requests for this article, CLICK HERE.