High-End Drone Tech Finds Way
Friday, December 1, 2017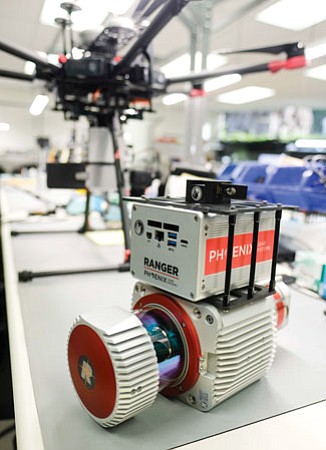 Entrepreneurs looking to enter the fast-growing commercial drone sector are finding it tough to compete as low-cost models from China dominate the market.
But there are other drone-related manufacturing plays that can spell success to businesses here.

Case in point: Phoenix LiDAR in Palms ditched its efforts to build quadcopter drones several years ago after realizing it couldn't compete against existing manufacturers, such as DJI of Shenzhen, China, which now has an estimated 70 percent share of the civilian drone market that is projected to grow to more than $100 billion annually.
Phoenix, which employs 26, rearranged its operations to solely manufacture light-weight, drone-mounted LiDAR sensors, a laser-based surveying tool similar to radar used to create 3-D maps of topography, power line infrastructure and construction sites. The company is burrowing deeper into its LiDAR niche with plans to release next year cloud-based software for calibrating and analyzing LiDAR data, according to its co-founder and Chief Executive Grayson Omans.
"We just decided to focus purely on how we can improve LiDAR, the processing of the data, and all the different packages for these different applications," he said. "We've barely scratched the surface of this."
While the technology is nascent, there's lots of money on the table. Phoenix's sensors cost between $50,000 and $250,000. The company's shift away from drone manufacturing and towards specialized sensors is already bearing fruit. Last year the firm generated about $5 million in revenue and this year it is on track to double its sales. The five-year-old company has taken no outside funding, Oman said.
The company is not alone in pursuing high-end drone tech. The strategy is increasingly common among U.S. manufacturers, Michał Mazur, global head of drone powered solutions with PricewaterhouseCoopers in Poland, said in an email.
"Nowadays the availability of drone producers is enormous and it is extremely hard to find a way to stand out and make yourself visible on the market," he said. "Sensors and software producers are more likely to specialize in a specific type of product and have much more possibilities to gain the advantage over the competition with an unusual feature."
Reoccurring revenue
The total addressable global market for drone business services is $127 billion, according to an estimate by PricewaterhouseCoopers. And, some $45.2 billion of that anticipated market is attributed to the use of drones to monitor, maintain or assess infrastructure projects.
Phoenix's business took off last year when the Federal Aviation Administration introduced Part 107, a new regulation which allowed personnel to fly drones for commercial use with a remote pilot airman certificate, a classification easier to achieve than a full-fledged pilot's license.
"There was a long R&D phase, but as soon as Part 107 came out from the FAA and unlocked the U.S. market we saw a huge need for LiDAR," said Omans.
Demand for the technology by everyday personnel is still limited by its complexity, however, said Omans. The company aims to solve that by automating much of the LiDAR calibration and analysis process with its forthcoming subscription-based software, which will cost $550 a month to $800 a month.
"At the end of the day collecting the data, is really the easy part," said Andrew Aubrey, chief executive of SeekOps, a drone-mounted methane sensor manufacturer in Pasadena. "It's having the expertise to process that data, and reuse that data, and turn it into actionable information, which is a huge part of the value chain."
Omans envisions the task of flying drones, as well as collecting and analyzing data, will ultimately be completely automated and will allow drones to operate far beyond a human's field of view.
"A lot of our utility customers' line of site is maybe 5 power poles. They want to go miles and miles," he said.
Eye in the sky
LiDAR, or light imaging detection and ranging, is best known for its role helping self-driving cars detect obstacles on the road. But, the technology can also be slung below a drone and used to survey land, as in the case of Phoenix's sensors.
The LiDAR method works by hitting an object, such as a tree, the ground or a power line, with a rapidly pulsing laser beam and measuring the distance to that target by calculating how long it takes the light to bounce back. Repeated pulses allow surveyors to create a digital 3-D scan of the physical world called a point-cloud.
LiDAR has been used to map topography before, but typically it was mounted aboard a helicopter or airplane to survey large areas. Aircraft-mounted LiDAR was viewed as out of reach for operators looking to survey small plots of land because of its expense.
But, Omans said, several years ago he saw the writing on the wall: Reductions in cost and weight would change the technology's applications.
The company brags that it was the first in the industry to mount a LiDAR sensor to a drone in 2013. Now, about 90 percent of the sensors the company sells are mounted on drones, mostly quadcopters manufactured by Dà-Jiāng Innovations Science and Technology Co., or DJI, of Shenzhen, China, said Oman. The rest are carried aboard helicopters, ATVs, automobiles and, in one instance, a row boat.
The company's sensors are particularly popular for surveying how close power lines are to trees and measuring the features of a mining pit. Customers include Hong Kong Civil Engineering Department, Saskatchewan Canada Ministry of Environment and drone infrastructure inspection service AirShark of Hampton, N.H.
Phoenix's sensors capture an immense amount of data on each flight, some 750,000 points per second. They can accurately place the X, Y and Z coordinates of a physical object within 2 centimeters to 8 centimeters, depending on the situation and the sensor, Oman said.
In the near future drone operators could adopt LiDAR capabilities more widely, said Mazur of PwC.
"Nowadays LiDAR sensors are relatively expensive which is a main reason why its popularity is still quite small," he said. "With the electronic industry developing new inexpensive solutions, I believe it will become one of the most common tools used over the next few years."
For reprint and licensing requests for this article, CLICK HERE.