High-End Drone Tech Finds Way
Friday, December 1, 2017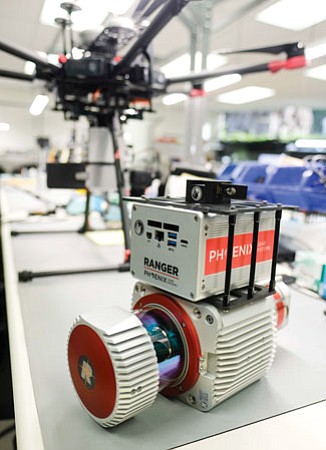 Entrepreneurs looking to enter the fast-growing commercial drone sector are finding it tough to compete as low-cost models from China dominate the market.
But there are other drone-related manufacturing plays that can spell success to businesses here.

Case in point: Phoenix LiDAR in Palms ditched its efforts to build quadcopter drones several years ago after realizing it couldn't compete against existing manufacturers, such as DJI of Shenzhen, China, which now has an estimated 70 percent share of the civilian drone market that is projected to grow to more than $100 billion annually.
Phoenix, which employs 26, rearranged its operations to solely manufacture light-weight, drone-mounted LiDAR sensors, a laser-based surveying tool similar to radar used to create 3-D maps of topography, power line infrastructure and construction sites. The company is burrowing deeper into its LiDAR niche with plans to release next year cloud-based software for calibrating and analyzing LiDAR data, according to its co-founder and Chief Executive Grayson Omans.
"We just decided to focus purely on how we can improve LiDAR, the processing of the data, and all the different packages for these different applications," he said. "We've barely scratched the surface of this."
While the technology is nascent, there's lots of money on the table. Phoenix's sensors cost between $50,000 and $250,000. The company's shift away from drone manufacturing and towards specialized sensors is already bearing fruit. Last year the firm generated about $5 million in revenue and this year it is on track to double its sales. The five-year-old company has taken no outside funding, Oman said.
The company is not alone in pursuing high-end drone tech. The strategy is increasingly common among U.S. manufacturers, Michał Mazur, global head of drone powered solutions with PricewaterhouseCoopers in Poland, said in an email.
"Nowadays the availability of drone producers is enormous and it is extremely hard to find a way to stand out and make yourself visible on the market," he said. "Sensors and software producers are more likely to specialize in a specific type of product and have much more possibilities to gain the advantage over the competition with an unusual feature."
Reoccurring revenue
The total addressable global market for drone business services is $127 billion, according to an estimate by PricewaterhouseCoopers. And, some $45.2 billion of that anticipated market is attributed to the use of drones to monitor, maintain or assess infrastructure projects.
Phoenix's business took off last year when the Federal Aviation Administration introduced Part 107, a new regulation which allowed personnel to fly drones for commercial use with a remote pilot airman certificate, a classification easier to achieve than a full-fledged pilot's license.
For reprint and licensing requests for this article, CLICK HERE.
Prev Next