Doheny Institute Moves to Pasadena
Friday, December 1, 2017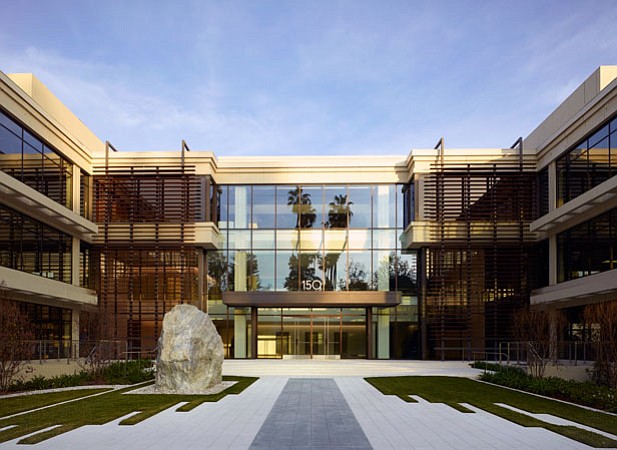 The Doheny Eye Institute will move its longtime headquarters and vaunted research labs from Boyle Heights to a $50-million campus in Pasadena.
"We are thrilled," said Dr. SriniVas R. Sadda, president and chief scientific officer of the 70-year-old nonprofit organization, in a statement. "The longstanding legacy of Doheny and historic Pasadena are a perfect match."
Match-making hasn't always been smooth for Doheny, a leader in the field of retinal eye imaging. It once was so closely aligned with USC that it built two medical towers at the school's Health Sciences Campus just east of the 5 freeway.
Then came a bitter split over real estate and a new affiliation with UCLA.
The relationship with USC, which stretches back more than 50 years, will end with next year's move to Old Pasadena.
The Doheny, now affiliated with the UCLA Stein Eye Institute, announced Nov. 22 that it paid $50 million for the four-story, 123,200 square-foot office building at 150 N. Orange Grove Blvd.
The seven-acre office campus was built in 1981 to serve as the headquarters of Fortune 500 member Avery Dennison Inc., which has since moved to neighboring Glendale.
The LEED Silver campus was designed by William L. Pereira & Associates, creators of the Los Angeles County Museum of Art and the Transamerica Pyramid building in San Francisco.
The Doheny plans to refurbish its interior and move 120 administrators, scientists and staff to its new headquarters, research labs and clinic space by the end of 2018.
It also plans to open an on-site outpatient vision clinic to be run by another health care provider, with the UCLA Health System among the possibilities.
"It was the best possible property," said Christopher C. Conway, chief of development and public affairs for the institute. "We are thrilled. Everybody says it feels like Doheny – cutting edge. Our USC chapter is coming to a close, so we must move on."
What is now the Doheny Eye Institute was founded in 1947 by philanthropist Carrie Estelle Doheny, second wife of Edward L. Doheny, a prominent Los Angeles oil baron.
She had knelt down to pray in the private chapel at her West Adams mansion when she was suddenly struck blind in her left eye. She later spoke of the sight loss as "a gift from God."
She was inspired to launch her vision research institute at St. Vincent Hospital, dedicated to restoring eyesight.
The institute first became affiliated with USC in the early 1960s, and it put $48 million into building and beefing up a Doheny Vision Research Center and Doheny Eye Hospital on the USC medical campus.
Doheny and USC had a legal falling out over real estate in 2011, a dispute that centered on parking at one of the institute's two office towers, which was leased to USC.
The Doheny dissolved its partnership with USC in 2012, and signed a 99-year affiliation with UCLA in 2013.
Earlier this year it sold its eye hospital building at the Boyle Heights campus to USC for $125 million.
The institute retains its other tower at the campus, an 110,000-square-foot building it may put up for sale or lease, Conway said.
Doheny's new Pasadena headquarters will be closer to research partners at Caltech, the Huntington Medical Research Institutes and the Jet Propulsion Laboratory, where it is now researching how astronauts could preserve their sight during a mission to Mars.
"From a real estate perspective, it's gorgeous," said William R. Boyd Jr., senior managing director of brokerage services for Charles Dunn Co., a Los Angeles-based real estate firm which brokered the March sale and November purchase for Doheny. "It's an unbelievable location."
For reprint and licensing requests for this article, CLICK HERE.