Contractors Struggling to Find Skilled Labor
Wednesday, August 30, 2017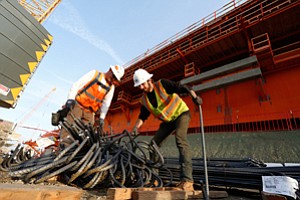 Three out of four construction firms working in commercial real estate across the western U.S. reported difficulty recruiting skilled carpenters, bricklayers, painters and other workers, according to a survey released this week.
Nearly 100 of the 1,600 construction firms surveyed were in California, where the job market has remained strong. Each of the surveyed companies did public works, commercial, industrial and apartment construction. The survey covered the 12 months from July 2016 to last month, and did not include builders of single family homes.
The Associated General Contractors of America, which conducted the survey, said chronic labor shortages could wield significant economic impacts unless there was a greater investment made in career and technical education.
"In the short term, fewer firms will be able to bid on construction projects if they are concerned they will not have enough workers to meet demand," AGCA Chief Executive Stephen Sandherr, said in a statement.
California added nearly 50,000 construction jobs during the period covered by the survey, according to the AGCA, including 34,000 in Southern California. Los Angeles County added 9,200 construction jobs for a total of 146,400 over the same period, according to the state Employment Development Department.
Health business reporter Dana Bartholomew can be reached at dbartholomew@labusinessjournal.com. Follow him on Twitter @_DanaBart.
For reprint and licensing requests for this article, CLICK HERE.