Wealthiest Angelenos: 40. CHARLES MUNGER
Monday, August 28, 2017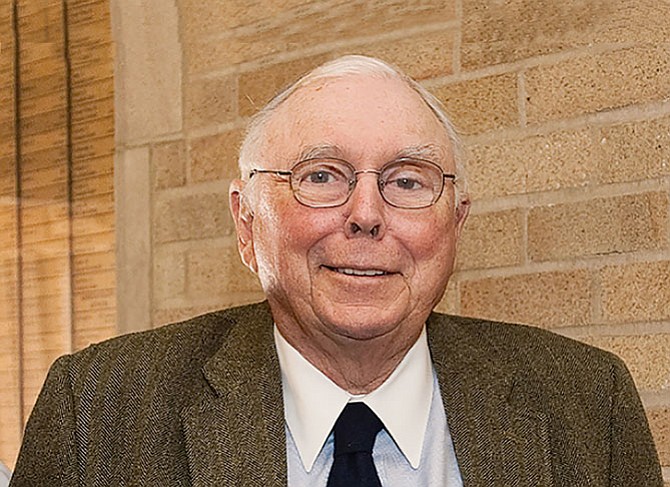 40. CHARLES MUNGER
THE MONEY: A business partner of Warren Buffett since the two met at a dinner party in 1959, Munger helped Buffett steer Berkshire Hathaway toward See's Candies and other big companies. It now holds railroad assets, numerous manufacturing companies, and retail businesses. The company's stock was up 18.7 percent this year, which along with other investment gains, catapulted Munger's net worth.
THE BUZZ: Munger's public holdings in Berkshire and Costco Wholesale Corp. all realized gains. As chairman of Daily Journal Corp., his decision to sink some $15 million in company cash into securities in 2009 continues to pay off. His charitable contributions chipped away chunks of his fortune in past years, but not this time. He gave a $200 million donation in March 2016 to UC Santa Barbara, to which he gave a $65 million gift in 2014. Munger holds just under 4,900 Berkshire Class A shares and still takes a $100,000 annual salary, as he has for more than 25 years. The Harvard Law alumnus also sits on the boards of Costco, Citigroup Global Market Holdings Inc., and Hospital of the Good Samaritan. Born in Omaha, Neb., Munger joined the Army during World War II. The Republican donor called then-candidate Donald Trump "morally unqualified" for the presidency.
NET WORTH: $1.61 billion (+29.8%)
LAST YEAR: $1.24 billion
AGE: 93
RESIDENCE: Los Angeles
SOURCE OF WEALTH: Investments
Return to Wealthiest Angelenos index page
For reprint and licensing requests for this article, CLICK HERE.