Wealthiest Angelenos: 15. A. JERROLD PERENCHIO
Monday, August 28, 2017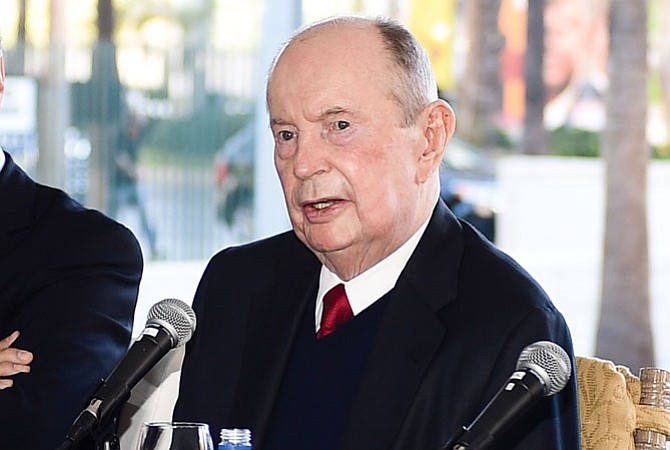 15. A. JERROLD PERENCHIO
THE MONEY: The influential Republican political donor heads Jerry Perenchio Living Trust as well as Chartwell Partners, an investment firm specializing in media, entertainment, and real estate. The former Univision chairman and chief executive made his fortune after that company's $13.7 billion sale to a Saban-led investment group in 2007.
THE BUZZ: Perenchio was dubbed one of the "wet princes of Bel Air" in September after an investigation into the biggest water guzzlers during the California drought found his Bel Air chateau required 6.1 million gallons of water per year. He purchased another Bel Air home last summer: the former residence of Ronald and Nancy Reagan in a $15 million off-market deal. A longtime board member of the Ronald Reagan Presidential Foundation and a close friend of Nancy Reagan, he served as a pallbearer at the former first lady's funeral in March 2016. Perenchio continued his support for GOP candidates during the 2016 election cycle, spending $4.7 million, with most of that going to Carly Fiorina's failed presidential campaign. He donated $25 million to the Los Angeles County Museum of Art last year; he also pledged a $500 million art collection to the museum in 2014.
NET WORTH: $4.25 billion (+7.3%)
LAST YEAR: $3.96 billion
AGE: 86
RESIDENCE: Bel Air
SOURCE OF WEALTH: Media, real estate
Editor's note: Jerrold Perenchio died May 23, 2017.
Return to Wealthiest Angelenos index page
For reprint and licensing requests for this article, CLICK HERE.