Aquatic Farm Flexes Mussels Offshore
FOOD: Catalina Sea Ranch takes crack at shellfish sales.
Friday, August 11, 2017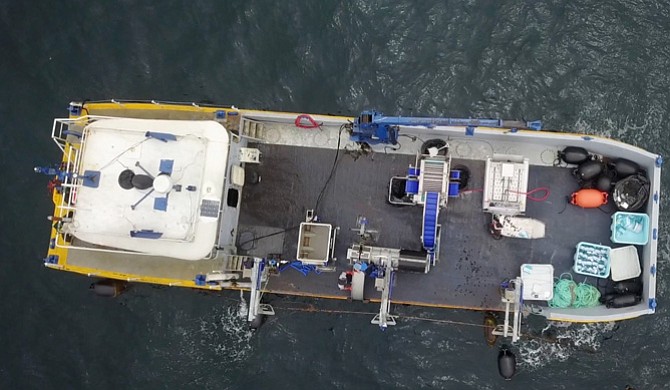 Catalina Sea Ranch has finally grown some mussels.
The company's aquaculture farm a few miles off Los Angeles County's southern coast harvested its first batch in mid-July. The initial crop was three years in the making and represents new territory in the seafood business: The aquaculture facility is the first in the nation to be permitted for commercial use in federal waters, the company and federal officials said.
Phil Cruver, founder and chief executive, said the United States is too reliant on imported shellfish, and he aims to change that with his Catalina Sea Ranch.
"I saw a need for fresh, sustainably grown mussels in the L.A. region," Cruver, 72, said. "The company is now positioned to be one of the very few domestic suppliers of shellfish in the country."
The United States imports 80 percent to 90 percent of its seafood, with over half of that derived from global aquaculture, according to the National Oceanic and Atmospheric Administration's fisheries division, a federal agency within the U.S. Department of Commerce.
"Despite having the second-largest sea region in the world, the U.S. trade deficit in seafood grew to about $13 billion last year," said David O'Brien, deputy director of NOAA's Office of Aquaculture.
The estimated freshwater and ocean U.S. aquaculture production in 2014 was 608 million pounds with a value of $1.33 billion, according to the latest data from Fisheries of the United States, an arm of NOAA.
Catalina Sea Ranch will barely dent the deficit, at least for now.
The privately held company operates a 100-acre underwater shellfish farm and has an office and research facility located at Berth 58 at the Port of Los Angeles, employing nine workers.
Catalina Sea Ranch has partnered with Holtsville, N.Y., seafood distributor DiCarlo Distributors Inc. to supply its mussels regionally, setting a price point of $2.25 a pound at wholesale.
Cruver said that is slightly higher than market rate but that DiCarlo is willing to pay a bit more for fresh, locally grown shellfish.
Catalina Sea Ranch has had two test harvest rounds so far, together yielding about 500 pounds of mussels, Cruver said, and he expects the entire pilot run to produce close to 30,000 pounds.
He hopes to expand the sea farm to 1,000 acres over the next few years for mussel production as well as other types of shellfish farming including abalone, oysters and scallops. He estimated the growth would scale up the mussel harvest, which takes eight months to a year, to 2.5 million pounds.
At $2.25 a pound, that would bring the company's annual mussel revenue to around $5.6 million.
Cruver has raised $4.8 million so far for the business, partially self-financed.
He's also developed a second revenue stream, reeling in an additional $600,000 in federal contracts for aquaculture research.
Demand for seafood is increasing in the country; Americans increased their consumption to 15.5 pounds of fish and shellfish per person in 2015, up 1 pound from 2014, a jump not seen in 20 years, according to a NOAA report released in October.
Meeting local and regional shellfish demand is where Cruver said he hopes to make a mark.
"Take mussels, for example," he said. "Most of what the U.S. imports is from Prince Edward Island in Canada. That's 3,500 air-polluting miles away."
Untested waters
California has had shellfish aquaculture operations in the open sea before, but most of that has been in state waters and done on a smaller scale.
"Shellfish production has been going on along the coast in Tomales, Monterey and Santa Barbara, to name a few places," said Diane Windham of the West Coast region of NOAA's Office of Aquaculture. "Catalina Sea Ranch is the first to operate commercially in federal waters in the country."
California state waters are three miles from shore to sea, while federal waters are three to 200 miles out.
Part of the reason the United States has been slow to ramp up aquaculture production is a complex and inefficient permitting and leasing process by both state and federal agencies, she said.
Environmental concerns also can restrict the industry.
"Resistance because of perceived environmental impacts is another factor on why we don't see more aquaculture in the U.S.," said Dennis Hedgecock, professor of fisheries ecology at USC.
Such opposition comes despite aquaculture having "probably … the least environmental impact when it comes to producing protein for human consumption," Hedgecock said.
Cruver also said the permitting process is complicated, noting it took him two years to get the proper approvals in place. He launched his company in 2012, the year he received a permit from the U.S. Army Corp of Engineers, which has jurisdiction over federal waters, and then another permit approval from the California Coastal Commission, two years later.
Hedgecock said the last aquaculture permit for use in state waters was given out 20 years ago.
The next step of the business was raising capital and starting the operations.
Cruver partnered with Tillamook, Ore.-based Whiskey Creek Fish Hatchery, from which he gets his "seed lines," 20-foot-long fuzzy ropes that have mussel spawns attached to them. The mussels are grown on a continuous loop of suspended ropes submerged 20 feet below water. Each line starts with about 80,000 mussel seeds, he said.
The mussels begin to outgrow their rope space in two or three months. Then comes the next phase, called the "grow-out cycle," Cruver said.
The mussels are stripped from their original seed line and replanted on 8,000 feet of grow-out line. When the mussels are about 2½ to 3 inches long, they are ready to be harvested. The entire process takes eight to 12 months.
Southern California's weather, which creates optimal sea water temperatures for mussel growth, coupled with the abundance of phytoplankton, which the mussels feed on, make the region the best location for future expansion, Cruver said.
Shelling out
Aquaculture production in offshore marine waters can be risky from a business standpoint because of its specialized nature, said Jim Brenner, an investment analyst and adviser who consults for Coral Gables, Fla.-based Aquasol Inc., an aquaculture consultancy.
Researching techniques that best suit climate and species, purchasing equipment and advanced technology, finding ways to minimize the effect on the natural ecosystem, and complying with strict environmental state and federal laws create added layers of challenges, Brenner said.
"A well-capitalized business is one that stands a chance to do this for the long term, on a large scale," he said.
The NOAA's Windham said that California Sea Ranch has demonstrated that it can be done here even with the state's stringent regulatory regime.
The potential reward, she said, resides in the huge mussel market in Los Angeles.
"There's been an increase in awareness about the sustainability around aquaculture," Windham said, "and with the close proximity to the ports for efficient delivery, they are positioned well."
For reprint and licensing requests for this article, CLICK HERE.