Arts District's Growth Prospects May Lead South
Industrial properties below Seventh Street appear ripe for conversion, exec says.
Friday, August 11, 2017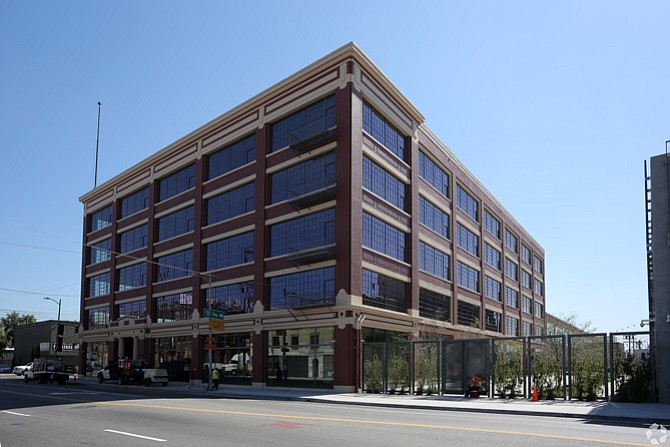 Ask Cushman & Wakefield's Arts District specialist Jae Yoo where the boundaries of the neighborhood are going to expand and he'll point south of Seventh Street.
That's the southern edge of the business improvement district that serves the area. It's also where the Arts District begins to become more industrial.
Yoo, an executive director at the real estate services firm, said that a change toward a more pedestrian and retail-friendly environment is just around the corner.
He calls attention to recent creative and tech-related deals, such as Warner Music moving its headquarters and signing a 13-year lease at the Ford Factory on Santa Fe Avenue, and Hyperloop One leasing more space at properties within walking distance of its campus on Bay Street.

"You drive by this little pocket and there are still a lot of industrial users embedded in these buildings and a lot of family businesses all settled in there," Yoo said. "There's still forklift drivers, yes – but realize this pocket is more than meets the eye."
Among the arrivals coming soon to south of Seventh is a new gelateria from Netflix celebrity chef Nancy Silverton called Nancy's Fancy, and a Rolling Greens high-end home furnishing and nursery shop, according to Yoo.
The area is freeway close, he said, another benefit as it begins to draw new sorts of tenants.
"The one big draw is you get off the freeway instead of wiggling your way through downtown," he said. "The location is amazing. … We're seeing museums and credible tenants looking at this area. It's probably not as expensive as the more- established part of the Arts District, but it's on the rise."
Century City Vacancies
The growing demand for media content is driving down office vacancy in Century City, currently at 7.8 percent compared with 16.4 percent for downtown, according to brokerage Jones Lang LaSalle's annual Skyline report. Average rent per square foot in Century City was $58.92 annually, while downtown was at $44.60.
There were 51 vacant floors in the 10 million-square-foot office market in Century City three years ago, said Josh Wrobel, managing director for JLL. The count is in the midteens this year.
"I think you've seen a double-digit year-over-year increase (in net absorption) in Century City," Wrobel said. "It's primarily in entertainment."
Financial and law firms have been the primary segments of the base of tenants in downtown in the past, but the city center has more recently become a hub for architecture and engineering, he said.
Century City's higher lease rate will likely help downtown, including the Arts District, when it comes to creative firms, according to Wrobel.
Little Tokyo Center
Add one more venue for conferences, conventions and exhibits in Los Angeles.
The Little Tokyo Service Center recently announced that it has raised enough money to build a 39,000-square-foot Terasaki Budokan, a sports and multipurpose events center for the neighborhood at 237 S. Los Angeles St. The $25 million project has received support in the way of $88,000 in solar panels from Mitsubishi Electric Corp. and cars from Toyota Motor Corp. to raffle off.
The 18-month construction period is expected to begin next month, with an opening sometime in 2019, said Mike Murase, director of service programs for the center.
The 24,445-square-foot building will feature a 14,500-square-foot gym and a large open courtyard. It will be available for concerts, conventions and art shows for the neighbors in the Arts District. Ellen Endo, president of the Little Tokyo Business Association, said she expects the center to reach out to companies or entities that might be able to use the facility for programs, events or even classes related to health and well-being.
Staff reporter Neil Nisperos can be reached at nnisperos@labusinessjournal.com or (323) 549-5225, ext. 237.
For reprint and licensing requests for this article, CLICK HERE.