Tornante Co. to Purchase English Football Club Portsmouth FC
Thursday, August 3, 2017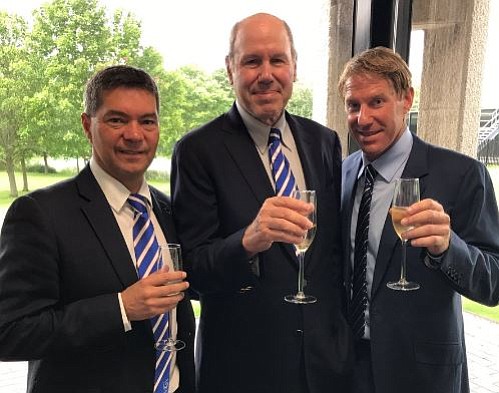 Michael Eisner's Tornante Co. has purchased English soccer club Portsmouth FC, the company announced Thursday.
Tornante will pay about $7.5 million for the club and has committed to an estimated $13 million in future investments.
"My family and I are thrilled to take on this incredible responsibility as stewards of a football club with such a rich heritage," Eisner said in a statement.
Beverly Hills-based Tornante invests in media and entertainment companies and co-owns trading card company Topps Co. Inc., which has licensing deals with U.S. sports leagues and soccer's English Premier League.
Eisner, a former Walt Disney Co. chief executive, had been negotiating the English football club's purchase since the beginning of May when the Pompey Supporters' Trust, which held a 48.5 percent stake in the club, voted to sell their shares to Tornante.
Portsmouth FC, also called "Pompey" by its fans, became the largest fan-owned football club in England following the club's financial struggles stemming from the recession in 2008. The club entered bankruptcy protection in 2013, and the largely fan-funded Pompey Supporters Trust was established that year to save the team, taking majority ownership.
"The football club wouldn't be here today if it wasn't for the against-the-odds commitment of Pompey supporters who came together and saved this club. This is and will always be your team," said Eric Eisner, Michael Eisner's son, in a statement.
The Eisner family will join the management of the club at Fratton Park and attend their first match as club owners Saturday, when Pompey plays Rochdale.
Tornante was advised in the transaction by New York-based Inner Circle Sports. Macfarlanes and Munger, Tolles & Olson served as Tornante's outside legal counsel.
Manufacturing and trade reporter Shwanika Narayan can be reached at snarayan@labusinessjournal.com. Follow her on Twitter @shwanika.
For reprint and licensing requests for this article, CLICK HERE.