Turning Up Heat
Coffee shop part of roaster F. Gaviña & Sons' expansion plans
Friday, April 28, 2017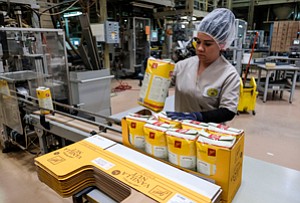 After 140 years in the coffee business, F. Gaviña & Sons Inc. is going to start brewing.
The Vernon company, which had its origins in Cuba, has been in expansion mode. It is taking a lease on a 100,000-square-foot facility next to its existing location to expand its warehouse space and, in June, is set to open a coffee shop in downtown Los Angeles. The moves will together add as many as 45 jobs to Gaviña's payroll of 250.
"The coffee shop has been my vision for some time, but since my family has traditionally been growers and roasters, the idea of a coffee shop didn't really take off till the next generation came on board the company," said Leonor Gaviña-Valls, 65, vice president of marketing and daughter of Francisco Gaviña, who started the company 50 years ago in Vernon.
Michael Gaviña, 36, the company's purchasing director and son of Chief Executive Pedro Gaviña, Leonor's brother, said four generations of understanding the roasting process and business will make this coffee shop special. The outpost plans to have a bakery that will serve Cuban- and Spanish-style food.
"For now, it's one thing at a time, but in the next five to 10 years, our vision is to open more coffee shops in the Southern California region," he said.
The expansion moves the company beyond its traditional business, selling its roast to mom-and-pop shops and corporate customers McDonald's, Ralphs, Vons, and Costco.
That business generated $142 million in 2015 revenue, an 8.3 percent increase from the year earlier. Company representatives wouldn't disclose 2016 revenue figures, but said it had double-digit growth.
Opening a café, even as a modest foray into a new line of business, comes as coffee consumption is on the rise.
According to a recent study by the National Coffee Association, a trade organization that's been tracking coffee consumption for more than 60 years, the number of Americans drinking coffee on a daily basis rose to 62 percent in January, up from 57 percent year to year. One of the reasons behind the increase was rising consumer enthusiasm for gourmet coffee.
The trend fits perfectly with F. Gaviña & Sons' vision for its coffee shop, dubbed Don Francisco's Coffee Casa Cubana, said Lisette Gaviña-Lopez, 39, marketing director and granddaughter of Francisco Gaviña. The shop will be located at the Spring Arcade building on 541 Spring St., potentially the first of many storefronts for the company.
"We're going to be roasting coffee in the shop, and this is our opportunity to create a space for our brand," said Gaviña-Lopez.
According to company history related by the family, the Gaviñas started in the coffee business in 1870 in Cuba, thriving for nearly a century before fleeing to Spain, where Francisco's parents were born, in 1960 in the wake of the revolution.
"To be free, we had to leave Cuba. That's the reason my father left," said Gaviña-Valls. "We stopped being coffee growers in Cuba due to communism. It wasn't our decision."
After three years in Spain, Francisco, who attended college in the United States, longed for the opportunity he recalled and moved the family to Miami, arriving in 1963. Establishing himself in the city's growing Cuban community proved difficult, however, and on a trip to visit relatives in Los Angeles he found a job, which he had not been able to do in Miami. He stayed and the family joined him a few months later.
"My father worked as a busboy in restaurants, but it was his dream to get back into the coffee business. He eventually learned of an opportunity to buy a small roaster in San Diego," said Gaviña-Valls.
In 1967, with the help of his sons and friends, he dismantled the roaster, hauled it back to Los Angeles, and installed the machine in a 1,100-square-foot space he rented in Vernon.
Today, the company is co-owned and -operated by Gaviña-Valls and her brothers, Pedro, Paco, and Jose Gaviña. The siblings have 10 children among them, eight of whom work for the business.
The company said its beans are imported primarily from Central and South America. Gaviña considers itself a regional supplier, selling three primary brands – Don Francisco's Gourmet Coffee, Cafe La Llave Espresso, and Gaviña Gourmet Coffee.
Over the years, the company grew from small to midsize, creating buzz in 1983 when it secured McDonald's as a client. Gaviña started by supplying coffee to 10 local franchises and then grew to include all of Southern California, eventually supplying almost the entire western division of the fast-food giant. Today, McDonald's accounts for 20 percent of the company's business.
Gaviña roasted 44 million pounds of coffee last year and is expecting 5 percent growth in 2017, said Gaviña-Lopez.
She said delving into a brick-and-mortar store has been something her aunt Leonor has wanted to do, and as the next generation entered the family business, the idea proved to be more plausible.
It also helps that the coffee market is seeing a trend toward specialty coffee including the ones Gaviña plans to serve at its coffee shop.
"We're seeing a culture where coffee as a product is becoming part of daily life," said Andrew Hetzel, a coffee policy and trade consultant at Coffee Strategies in Kamuela, Hawaii.
Hetzel is not surprised that Gaviña is opening up a retail location and said the move is a natural extension of what the company's always been doing, adding that it shouldn't be too worried about competition.
"The concept of saturation just doesn't apply to this business because it's a luxury market, a relatively elastic one where more and more people are consuming coffee and will find places to go to no matter what," he said.
For reprint and licensing requests for this article, CLICK HERE.