Turning Up Heat
Coffee shop part of roaster F. Gaviña & Sons' expansion plans
Friday, April 28, 2017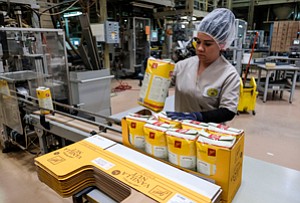 After 140 years in the coffee business, F. Gaviña & Sons Inc. is going to start brewing.
The Vernon company, which had its origins in Cuba, has been in expansion mode. It is taking a lease on a 100,000-square-foot facility next to its existing location to expand its warehouse space and, in June, is set to open a coffee shop in downtown Los Angeles. The moves will together add as many as 45 jobs to Gaviña's payroll of 250.
"The coffee shop has been my vision for some time, but since my family has traditionally been growers and roasters, the idea of a coffee shop didn't really take off till the next generation came on board the company," said Leonor Gaviña-Valls, 65, vice president of marketing and daughter of Francisco Gaviña, who started the company 50 years ago in Vernon.
Michael Gaviña, 36, the company's purchasing director and son of Chief Executive Pedro Gaviña, Leonor's brother, said four generations of understanding the roasting process and business will make this coffee shop special. The outpost plans to have a bakery that will serve Cuban- and Spanish-style food.
"For now, it's one thing at a time, but in the next five to 10 years, our vision is to open more coffee shops in the Southern California region," he said.
The expansion moves the company beyond its traditional business, selling its roast to mom-and-pop shops and corporate customers McDonald's, Ralphs, Vons, and Costco.
That business generated $142 million in 2015 revenue, an 8.3 percent increase from the year earlier. Company representatives wouldn't disclose 2016 revenue figures, but said it had double-digit growth.
Opening a café, even as a modest foray into a new line of business, comes as coffee consumption is on the rise.
According to a recent study by the National Coffee Association, a trade organization that's been tracking coffee consumption for more than 60 years, the number of Americans drinking coffee on a daily basis rose to 62 percent in January, up from 57 percent year to year. One of the reasons behind the increase was rising consumer enthusiasm for gourmet coffee.
The trend fits perfectly with F. Gaviña & Sons' vision for its coffee shop, dubbed Don Francisco's Coffee Casa Cubana, said Lisette Gaviña-Lopez, 39, marketing director and granddaughter of Francisco Gaviña. The shop will be located at the Spring Arcade building on 541 Spring St., potentially the first of many storefronts for the company.
Prev Next
For reprint and licensing requests for this article, CLICK HERE.