Faraday Future Facing Trademark Lawsuit Over Name
Originally published April 26, 2017 at 3:51 p.m., updated April 26, 2017 at 5:06 p.m.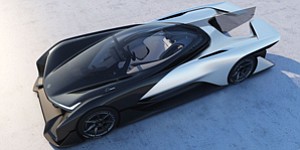 *This story has been updated to reflect that Aecom has not filed a lawsuit against Faraday Future.
Faraday Future, the Torrance-based electric car company, is facing a trademark lawsuit from an unrelated business called Faraday Bicycles.
San Francisco-based Faraday Bicycles said on its website that its name was derived from Michael Faraday, a British physicist born in 1791 whose research in the fields of electromagnetism and electrochemistry led the way for today's electric vehicles.
Faraday Bicycles, which manufactures electric bicycles, filed a trademark lawsuit against Faraday Future on Tuesday in U.S. District Court for the Northern District of California. The company said in the complaint that it obtained the trademark for "Faraday" in October 2013 and that Faraday Future has been infringing on its name.
The lawsuit goes on to say that Faraday Future's trademark application was rejected in 2016 because the U.S. Patent and Trademark Office reasoned the car maker's name was likely to be confused with the bicycle brand. Faraday Bicycles is seeking an injunction plus unspecified damages.
Business and legal woes seem to be piling up at Faraday Future. The company, which launched in 2014 and was touted as the "Tesla killer," has seen top executives leave in recent months and has so far failed to break ground on a facility in Nevada.
The company said a year ago it was planning to build a 900-acre, $1 billion factory a few miles from the Las Vegas Strip to house manufacturing of its electric vehicles. The carmaker's former partner, Aecom, stopped work on the facility in November saying it had yet to be paid $58 million in fees related to the Nevada factory, according to reports. The delay casts doubt on the company's plan to release its first production vehicle in 2018.
Landlord Beim Maple Properties also filed suit against Faraday in December alleging it missed more than $100,000 worth of rent payments for its Torrance warehouse, according to reports.
Manufacturing and trade reporter Shwanika Narayan can be reached at snarayan@labusinessjournal.com. Follow her on Twitter @shwanika.
For reprint and licensing requests for this article, CLICK HERE.