SPECIAL REPORT: Shot in Arm For Children
Friday, April 21, 2017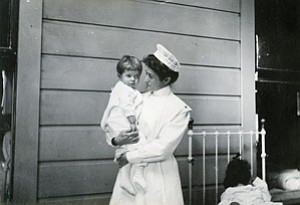 In its first year, Children's Hospital Los Angeles treated 14 patients in a house in Chinatown known as "the little house on Castelar Street."
That was 1901. In its latest fiscal year, the hospital treated nearly 140,000 patients at its 495-bed facility on Sunset Boulevard and Vermont Avenue in Los Feliz.
Paul S. Viviano, the hospital's chief executive, said its founding was the work of a dedicated group of women who wanted Los Angeles to be like other large cities in the United States that had hospitals dedicated to children.
"We've always had a mission of caring for the community," Viviano said. "That has translated to today through our present-day mission statement, which is to create hope and build healthier futures for children."
The hospital eventually relocated from the small house to a building at its present location in 1914.
Viviano said one of the most important early events in the hospital's history was its affiliation with USC's Keck School of Medicine, a relationship formed in 1932 that continues to this day. The hospital has 472 faculty members on staff, many of whom have academic appointments at USC.
Over the course of an academic year, the hospital hosts 1,070 rotating medical trainees, including third- and fourth-year Keck students, medical students from other schools, and fellows from other institutions, Viviano said.
Its 282,000-square-foot, nine-story building opened in 1968, following the 1962 acquisition of nine acres that surrounded the hospital. The Children's Hospital Research Institute was established in 1992, becoming the Saban Research Institute in 2003. It is one of the largest pediatric research centers in the United States.
The hospital received $71.4 million in research funding in the fiscal year ended June 30, including $26.1 million in funding from the National Institutes of Health, according to its annual financial report.
"We have 166 principal investigators that work on creating new treatments, new cures, and innovating new technology to treat diseases," Viviano said. "We combined our responsibility to provide better clinical care with significant dedication of resources to teaching and research."
The Center for Personalized Medicine was created in 2009 with the goal of using genomic testing and sequencing to personalize patient treatment. The development of such medicine will allow physicians to treat diseases more effectively and improve patients' survival rates, he said.
USC and Children's Hospital opened the Center for Technology and Innovation in Pediatrics in 2011. Viviano said the center brings together investors and venture capitalists with physicians and researchers to develop technology for pediatric patients.
The health care industry faces challenges regarding potential cuts to Medi-Cal and new federal health care policies, Viviano said.
The hospital does not turn any patients away regardless of ability to pay because it is a safety net institution, meaning a high number of patients are underinsured, uninsured, or on Medi-Cal, he said; 72 percent of the hospital's patients rely on the state program.
The hospital reported $187.2 million in unreimbursed costs of medical services for government-sponsored programs in its last fiscal year, though Medi-Cal partially offset those costs. It had operating revenue of $1.01 billion and reported a net loss of almost $59 million.
"By definition, we lose money with our Medi-Cal patients, and we are thrilled to be able to do so, but it puts burdens on us," Viviano said. "The challenges for us are how do we improve access and make more efficient use of our resources so we can treat more children."
Viviano said the hospital sees itself as a leader in the L.A. community and an advocate for children's health. It will be doing advocacy work as an institution and as part of an association of children's hospitals going forward.
"Our position is not partisan," Viviano said. "We want to protect children and funding for their health care, no matter who sponsors the bill."
For reprint and licensing requests for this article, CLICK HERE.