Fiber-optics Company's Sale a Crowning Moment
TECHNOLOGY: Wilcon Operations' $600 million deal reflects industry trend.
Friday, April 21, 2017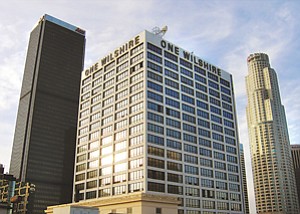 Crown Castle International Corp. agreed last week to acquire downtown telecommunications firm Wilcon Operations in a $600 million deal with private equity firm Pamlico Capital.
Wilcon's 1,900-mile network of fiber-optic cable, primarily in Los Angeles and San Diego, will supplement Houston-based Crown Castle's existing grid in the region and boost its small cell-tower network.
"The acquisition of Wilcon provides us an extensive set of dense metro fiber assets that will enable us to continue to deliver fiber-fed small cell solutions for our wireless customers in our fastest growing and most active market," Jay Brown, Crown Castle's chief executive, said in a statement.
The telecommunications industry has steadily consolidated in recent years as larger firms have gobbled up smaller, regional companies.
"There has definitely been significant consolidation going back almost a decade," said Wilcon Chief Executive Jon DeLuca, adding: "We are probably in the last quarter of that game."
Anticipating the pace of industry consolidation to slow in the years to come, DeLuca said the time was right to sell.
"There have been other acquisitions in the communication-infrastructure space at very high valuations," he said. "As a private-equity owned company, we knew there would be a time that we had to bring a return to our investors. Given the valuations in the market, it seemed like a good opportunity."
Pamlico Capital of Charlotte, N.C., holds a majority stake in Wilcon, which has its headquarters at the One Wilshire office building, a major fiber-optic network hub for the region.
The deal is expected to close in the third quarter.
Seed Funding Down
While venture capital investment in L.A. startups rose slightly in the first quarter of 2017, seed-stage investments went in the other direction.
Seed funding fell 43.8 percent to $51.6 million in the first quarter compared to the year-earlier period, according to a report from Venice accelerator Amplify.LA. In contrast, overall venture capital investment in L.A. companies rose 4 percent to $590 million versus the first quarter of 2016, according to data released this month by Dow Jones Venture Source.
It isn't clear what's causing the conflicting funding trends, but there could be several possible explanations, said Amplify's Connor Sundberg, who helped put the report together.
"It could have just been people taking a turn to quality over quantity," he said. Or, "you have all these deals making these extremely high valuations, but (venture capitalists) haven't exited, so these companies have money tied up in them."
Prev Next
For reprint and licensing requests for this article, CLICK HERE.