Moving Into Koreatown
DEVELOPMENT: Proximity to Westside, downtown, rail line fuels market's attraction.
Friday, April 14, 2017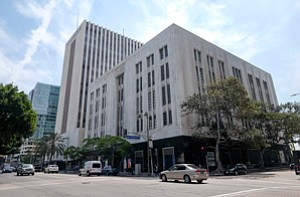 Many Korean immigrants settled in Los Angeles and established businesses through the 1970s along Wilshire and Olympic boulevards and Western and Vermont avenues. The area attracted immigrants from Central America in the 1980s, and the 2000 U.S. census counted the population as half Latino and 32 percent Asian.
The three ZIP codes that make up central Koreatown are home to 30,590 people per square mile, among the densest neighborhoods in Los Angeles, and nearly all residents are renters, according to the 2015 American Community Survey. The same area has 37,120 housing units.
The neighborhood's growth was not always a sure thing. In 1992, riots tore across South Los Angeles and Koreatown after police officers were acquitted in the Rodney King beating case. More than 2,000 Korean-run businesses were damaged or destroyed in less than a week, with losses estimated at $400 million.
"After the riots, when Koreatown was getting back on its feet, it was considered a dent in the middle of the city, it was not considered very safe," said Jaime Lee, chief executive of Koreatown-based developer and landlord Jamison Realty Inc.
Lee's father, physician David Lee, turned that shaky environment into opportunity, buying up a string of Koreatown office towers in the early 1990s. The company now controls about 8 million square feet of commercial space in Koreatown's Mid-Wilshire area, more than any other landlord in the market.
After opening its first apartments in 2013 at the Westmore, a converted midcentury office building on Wilshire Boulevard, Jamison is tackling ground-up residential construction for the first time, with seven projects underway in Koreatown.
"I spent my whole life working in this neighborhood. I see the vibrancy of it and the potential," Jaime Lee said. "People realize this is the center of L.A., the middle piece that links to the Westside, to downtown, to Hollywood."
Jumping in
Other developers without extensive Koreatown histories have come to similar conclusions.
Century West Partners purchased land on Berendo Street in 2012 after building apartments in downtown.
"We noticed Koreatown had more than three times the population of downtown," said Steven Fifield, a Century West partner. "There had been very little built in the past couple of decades. … We thought there was good pent-up demand."
The firm recently completed apartment project K2LA, with 478 units across three buildings. The first two properties are about 95 percent leased, while the third, open since June, is 75 percent leased, Fifield said.
For reprint and licensing requests for this article, CLICK HERE.