Can Robots Help Humans Get in Gear?
Embodied sees future in social assistants.
Friday, April 14, 2017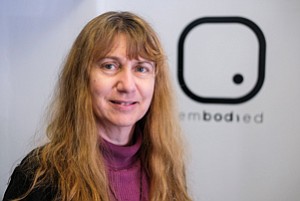 Robots don't have feelings, but they might be able to help with yours.
That's the thesis of Pasadena's Embodied Inc., a startup co-founded by USC computer science professor Maja Matarić, which is developing so-called socially assistive robots to motivate individuals to adopt healthy behaviors.
Socially assistive robots are machines that can converse with human users and encourage them to complete tasks. After piling up more than 15 years of research on robots doing such things as encouraging stroke patients to rehabilitate or autistic children to socialize, Matarić's company is working to commercialize the concept.
The startup announced last month that it plans to begin field testing its machines before the end of the year and is aiming to produce a mass-market robot that could retail for as little as $500; the specific application has yet to be announced.
"The grand vision is that we are developing personalized-companion robots," said Matarić, Embodied's chief science officer. "My personal philosophy is one robot per person."
In particular, socially assistive robots could be deployed in the health care industry to meet growing demand for therapists, she said. Occupational therapy and physical therapist aides are the professions in the United States most at risk of facing a labor shortage in the next 15 years, according to research by nonprofit industry group Conference Board of New York.
Robotics and health care experts both say robots could be a solution.
"Doctors and nurses really don't have the time they'd like to spend with each patient in order to help the patient understand their post-leaving-the-hospital instructions," said Justine Cassell, associate dean of technology strategy and impact for Carnegie Mellon University's School of Computer Science in Pittsburgh. "Robots on the other hand – and virtual humans – do have endless amounts of time."
Right moment
Matarić, 51, said the timing was right to take a sabbatical from USC and found Embodied in January 2016.
"It is a confluence of events," she said. "After 15 years of research we know enough of what to do and what not to do. Technology is ready in ways that it wasn't 15 years ago."
One of her research robots, dubbed Bandit, sits on a wheel base with a torso that supports humanlike mechanical arms, a head that pans and tilts, and a mouth that moves when it speaks. The robot uses its arms to demonstrate certain rehabilitation exercises for stroke victims, for example. It watches a user with a set of dual cameras to make sure the exercises are done right and when it sees exercises done well it offers encouraging words, such as "excellent" or "terrific."
When a stroke patient doesn't complete an arm rehabilitation exercise correctly, Bandit will needle the patient with dialogue such as: "Seriously, you can do better than that" and "I might be a robot, but I'm not blind."
Matarić noted that developments in artificial intelligence, chat bots, and computer speech systems are especially promising.
In particular, one technology that wasn't available 15 years ago and could potentially be used in combination with Embodied's forthcoming robots is Amazon.com Inc.'s intelligent personal assistant, Alexa. Sarah Sobolewski, a spokeswoman for Amazon's Alexa Fund, which invested in Embodied, said the firm is bullish on socially assistive robotics.
"We see great potential in the space," she said. "We are impressed and excited by what Embodied is doing in the robotics category."
Embodied raised a $3.79 million seed round in October led by Intel Capital with participation from the Alexa Fund, Grishin Robotics, Hive Ventures, and Osage Venture Partners.
Matarić's research also attracted Paolo Pirjanian, former chief technology officer of robotic vacuum manufacturer iRobot Corp. of Bedford, Mass., to become the company's chief executive. Pirjanian sold Evolution Robotics, a manufacturer of floor-cleaning robots, to iRobot for $74 million in 2012.
Matarić is among a handful of academics in the socially assistive field aiming to commercialize their knowledge of human-robot interactions, including Cynthia Breazeal, an associate professor of media arts and sciences at Massachusetts Institute of Technology who in 2012 launched Jibo Inc., which manufactures a voice-controlled robot.
Robot helpers
Matarić said the company's product would address one of her previous areas of research, though she would not name the specific application.
Some of her previous work includes using robots to coach stroke patients through rehabilitation exercises, to engage children with autism in social skill therapy, and to calm child patients who are having an intravenous needle inserted into their body.
For example, to reduce anxiety in children receiving intravenous needles, Matarić partnered with Children's Hospital Los Angeles and used a robotic head called Maki, developed by Atlanta's Hello Robo Inc., to talk to children during the procedure.
Early results of the ongoing study appear to show that when a robot expresses empathy with a child it helps reduce their anxiety, said Dr. Margaret Trost, a pediatrician at Children's Hospital Los Angeles who is helping conduct the research.
"(The robot) says they understand how the kid is feeling," Trost said.
She said the robot's dialogue includes phrases such as "I understand you are in a lot of pain right now and I'm here to help you."
Matarić cautioned that it's not clear what exact psychological mechanism causes humans to take comfort and encouragement from robots, but that when an understanding develops between a human and robot, that relationship can be used to promote healthy outcomes.
Her research has also explored using artificial intelligence to automatically adjust a robot's personality to a user's personality. Matarić said her work has shown that robot conversations with humans are most impactful when they mirror the personality of the user.
"If a person who needs to do exercises for stroke rehabilitation is extroverted, it actually works better if you push them more assertively," she said. "The extroverts preferred the extroverted robots."
Matarić said she believes there is a big commercial market for robots augmenting human behavior, noting an economic conversation focused solely on robots displacing human work is misguided.
"A lot of people are saying we'll build robots to do (work) for you," she said. "What we really need to do is help people help themselves and that's what socially assistive robotics is about."
For reprint and licensing requests for this article, CLICK HERE.