Software Firm Works to Get on Track With Weed
TECHNOLOGY: Kind Financial aims to keep pot firms compliant.
Friday, September 30, 2016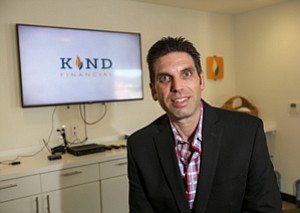 Tracking and tracing inventory is good business. For companies that sell tobacco, alcohol, firearms, and – where it's legal – cannabis, it's required.
Cannabis companies in California don't know yet whether they will be obligated to use track-and-trace software if recreational marijuana is legalized with passage of Proposition 64 in November, but one Hollywood firm is predicting a budding business opportunity.
Kind Financial is launching a more comprehensive version of its Agrisoft software product this fall and has already signed up 65 clients who will begin using its program next month. Founder David Dinenberg, 44, said the company shifted its strategy last year after acquiring cloud software firm Agrisoft Development Group, focusing less on offering financial services and more on providing compliance technology for cannabis companies and government regulators.
"I would like to think that we evolved in a great way," Dinenberg said. "The pain points in this industry have not changed. We have found a better, quicker, more suitable, and long-lasting solution for today's climate and for the future."
Software such as Kind's Agrisoft helps cannabis companies remain compliant with state and local laws while also helping them manage and track inventory from seed to sale. The industry has a number of established players, including BioTrackTHC of Fort Lauderdale, Fla., and Denver-based MJ Freeway, but Kind is hoping its recent partnership with Microsoft Corp. will give it an edge as even more companies enter the space looking to cash in on the L.A. market.
Moe Afaneh, BioTrackTHC's chief operating officer, said he's already noticed a more aggressive adoption rate in California over the last few months. However, some marijuana companies are still skeptical about the expenditure.
"A lot of them are saying, 'Hey, we want to do this, but the state hasn't mandated it yet. We'll let you know when we're ready,'" Afaneh said.
Avis Bulbulyan, founder and chief executive of Burbank cannabis consulting and management firm Siva Enterprises Inc., said it's only a matter of time before track-and-trace software becomes the industry standard. Proposition 64 would mandate companies to use it in two years.
"If you're looking to be in the cannabis space long term, you need to move compliance up to the top of your list of priorities," Bulbulyan said. "Track-and-trace, besides being a requirement come the state level in 2018, it's just good business practice."

First sniff
Dinenberg, a former commercial real estate broker and developer in Philadelphia, launched Kind after moving to Los Angeles in 2013 and raised an undisclosed seed funding round in June 2014. A subsequent $2 million round closed in February. One of Kind's biggest investors is Lindy Snider, a longtime advocate for the legalization of marijuana and daughter of former Philadelphia Flyers owner Ed Snider, who died earlier this year.
For reprint and licensing requests for this article, CLICK HERE.
Prev Next