Real Deal Eludes Parent As Paper Pursues Digital
MEDIA: Shares of tronc still up from Gannett bids while Times presses into future.
Friday, September 23, 2016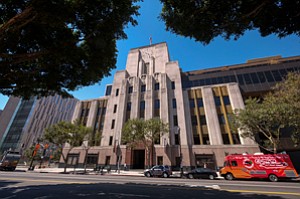 While newspaper conglomerate Gannett Co. continues to pursue a takeover of tronc Inc., the latter's flagship paper, the Los Angeles Times, is taking a central role in the company's much ballyhooed digital makeover.
The paper's new online story editing platform, called Simple News Assembly Platform, or Snap, was built by two Times staffers to help modernize editing operations. Tronc is preparing to launch the platform, which it describes as more efficient, at its other publications as part of its rebranding as a "digital-first" company. The San Diego Union-Tribune has already adopted the platform, with the rest of tronc's properties, including the Chicago Tribune, to follow.
But the clock is ticking for tronc: Though the company has fended off three bids from Gannett in the past five months, its decision to stay independent only makes sense if tronc can prove its digital transformation has taken off full throttle.
"Tronc continues to evade Gannett, but they can't just say no forever," said Lloyd Greif, chief executive of investment banking firm Greif & Co., adding that tronc Chairman Michael Ferro; Chief Executive Justin Dearborn; and billionaire board member Patrick Soon-Shiong, its second-largest shareholder, have been working to revamp the company's digital media and advertising infrastructure. "But if that plan hasn't been implemented or implemented fast enough, a crisis decision could be forced."
Tronc's stock price has climbed steadily since Gannett's first unsolicited $12.25-a-share bid in April. After that was rebuffed, Gannett came back the next month with an offer of $15 a share, which was also declined despite reports that its third-largest shareholder, downtown's Oaktree Capital Management, pushed for the deal.
Shares of tronc were trading at $7.52 before Gannett's April 25 offer and closed north of $17 on Sept. 21 – an increase of 126 percent. Bloomberg reported on Sept. 9 that tronc was in active discussions with Gannett over an offer of $18.50 a share. Representatives of both companies declined to comment on the possibility of a deal.
"Surprisingly, there's a lot less noise this time around," said Hamed Khorsand, a tronc analyst with BWS Financial Inc. of Woodland Hills. "That tells me both sides are actually really serious about this."
Given how tronc has been going about its business, the company seems to be angling for a better price, Khorsand said.
The Chicago-based company last month reported second-quarter net income of $4.1 million (12 cents a share), a nearly 20 percent jump from $3.4 million (13 cents) earned the previous year. At the same time, revenue was down by 2 percent, falling to $404 million from nearly $413 million the year earlier. Tronc offered a modest revision to 2016 revenue guidance, boosting it to a range of $1.61 billion to $1.63 billion from an earlier floor of $1.6 billion.
Prev Next
For reprint and licensing requests for this article, CLICK HERE.