Shops Still Game to Trade on Departed Brand Name
RETAIL: Owner of Fred Segal wants moniker gone on Melrose.
Friday, September 16, 2016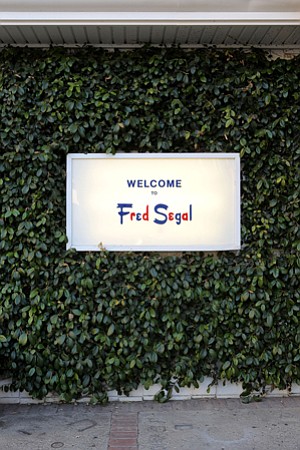 "It's not really the name of the building; it's who used to live there," he said. "When they leave the sign there and sell the same thing, they're telling the public we're the same store, and deceiving them."
Designing digs
Fred Segal the brand grew out of a denim apparel business launched by its eponymous founder after his graduation from UCLA. The designer nabbed the space at Melrose and Crescent Heights Boulevard in 1961 and sold jeans for $19.95 a pair, according to the complaint. Needing to fill the rest of the space, he hand-picked designers to set up individual boutiques. The model proved so popular that he later replicated the concept in Santa Monica. Both sites became fashion landmarks.
The Melrose property, a low-slung white building of 29,000 square feet, stayed in the Segal family hands for decades. In 2001, the Segals sold the site to Bud Brown, Segal's longtime insurance broker, according to public records, along with a license to use the name.
CormackHill picked up the site this March for $43 million. The company was co-founded in Vancouver, British Columbia, in March by brothers Jason, Lyndon, and Jamie Cormack with Brian Hill as a vehicle for personal real estate investments, according to a representative. Jamie and Lyndon co-founded Herschel Supply Co., a maker of backpacks and bags, in 2009. Hill is chief executive of Aritzia, a women's apparel company founded in 1984 that is in the process of filing for an IPO and plans to open a location at Westfield Corp.'s Century City mall.
Transitions
Ed Sachse, executive managing director for Beverly Hills real estate brokerage Kennedy Wilson, said at the time of the Fred Segal property sale that he had fielded interest from local and international companies as well as private and institutional investors.
Meantime, other changes were afoot.
When Fred Segal sold its brand to Sandow in 2012, it also sold its Santa Monica property to Dune Real Estate Partners. With the site slated to be torn down and replaced by a seven-story apartment building called 500 Broadway, the stores with the Santa Monica location began closing about a year ago.
Sandow signed a lease for 20,680 square feet at Runway Playa Vista in February, according to CBRE.
Sandow's director for business development, Monica del Borrello, wouldn't comment on the lawsuit or any expansion plans. Sandow, based in Boca Raton, Fla., owns Fred Segal in partnership with Evolution Media Partners, a joint venture among talent representatives Creative Artists Agency, private equity firm TPG Growth, and producers Participant Media.
For reprint and licensing requests for this article, CLICK HERE.