Shops Still Game to Trade on Departed Brand Name
RETAIL: Owner of Fred Segal wants moniker gone on Melrose.
Friday, September 16, 2016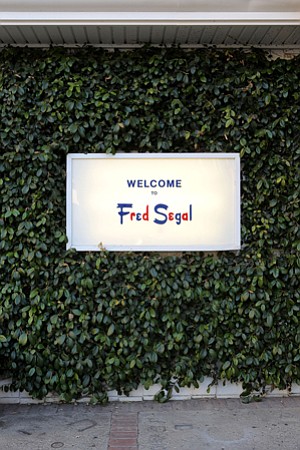 Editor's note: An earlier version of this story misstated the brand name of a hair salon based in Santa Monica. It is Matthew Preece.
The ivy-coated Fred Segal complex on Melrose Avenue looks much as it did when it opened in 1961: several brands selling designer apparel and decor are clustered in a building marked by a red, white, and blue "Fred Segal" sign. What's not clear from its appearance is that the celebrated brand no longer has any relationship with the property.
That has the brand's parent company, Sandow, ticked off at property owner CormackHill, which it claims is infringing on its trademark by misleading shoppers into thinking the Fred Segal sign on the outside has something to do with the stores on the inside.
"There is a substantial likelihood of confusion on the part of the public and clients regarding the use of the Fred Segal Marks," Sandow argued in a complaint filed in U.S. District Court earlier this month.
Jason Cormack, one of CormackHill's co-founders, said through a representative that the company is aware of the claim but declined to comment further. He added, in a statement: "The CormackHill investment is an iconic shopping center with long-term tenants and we have no immediate plans for change."
The dispute comes as Sandow is four years into revamping the Fred Segal brand, which it bought from Fred Segal and his family in 2012. The company since has opened outposts at Los Angeles International Airport, and in Tokyo and Yokohama, Japan. A location in the SLS Las Vegas hotel opened in 2014 but closed last year. It is also planning locations in Hyogo, Japan, and at Runway Playa Vista, a nearly finished residential and retail development. In August of last year, Sandow announced plans for its first apparel line, Fred by Fred Segal.
Fashion industry professionals expressed concern that the Fred Segal brand, celebrated for launching acclaimed L.A. apparel lines such as Michael Stars Inc., Trina Turk, and Earl Jean Inc. could potentially be harmed by an unauthorized user.
"If they're putting in apparel, if they're putting in anything that looks like the old Fred Segal store, Sandow should go after them with all guns blazing," said Ilse Metcheck, president of the California Fashion Association.
CormackHill is unlikely to argue the building should be able to retain its name as a renowned location, said Daniel M. Klerman, a professor of law and history at USC. The case appears to be clear-cut trademark infringement.
Prev Next
For reprint and licensing requests for this article, CLICK HERE.