Hanjin Ships Finally Dock at Port of Long Beach
Monday, September 12, 2016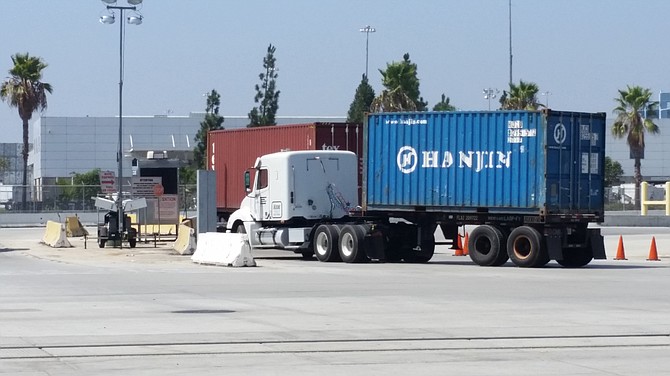 Two Hanjin Shipping Co. vessels that had been waiting for more than a week to unload their cargo at the Port of Long Beach after the company filed for bankruptcy have finally been allowed to dock.
The ships and their crews of about 25 sailors each had been waiting offshore because no money was available to pay docking fees. Around the world, 73 Hanjin ships were reportedly seized or denied access to ports, as the seventh-largest cargo carrier on the planet drowned under $5.5 billion in debt.
That was expected to change after Hanjin Shipping's parent company, South Korea's Hanjin Group, pledged $90 million last week to get the vessels moving again. Following that, the shipping company's largest shareholder, Korean Air Lines Co., approved $54 million in funding.
In Long Beach, the first ship, Hanjin Greece, docked Saturday at Pier T, which is operated by Hanjin-owned Total Terminals International, according to the Maritime Exchange of Southern California. A second ship, the Hanjin Boston, got clearance to dock Tuesday, Sept. 13, at a Port of Los Angeles terminal. A third ship remained at anchor Monday.
The news was a relief for one client of Richard P. Ormond, a senior partner at downtown-based law firm Buchalter Nemer who represents a number of West Coast manufacturers.
He said the textile manufacturer, which he wouldn't name but which produces luggage and apparel, had about $3 million in goods waiting to be offloaded on the two docked ships. That cargo was bound for retailers such as Target, Wal-Mart, and Macy's ahead of the holidays.
Still, he said, the company is "very cautious" about the prospects of getting the rest of its products moved.
"I have heard from some of my clients that they're worried that these goods won't make it to the shelves by Black Friday," Ormond said.
He said he wondered whether there will be enough money to allow other ships that were forced to stop mid-voyage to dock as well. More vessels are expected to arrive at West Coast ports in the coming days.
"Unfortunately, we're now in a wait and see mode to see what gets unloaded," Ormond said.
For reprint and licensing requests for this article, CLICK HERE.