Private Equity Firm Opts for Dough, Sells Stake in Pretzel Chain
Friday, September 9, 2016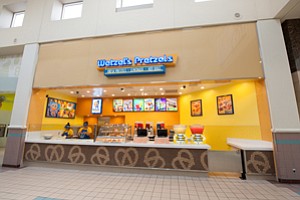 Levine Leichtman Capital Partners, a Beverly Hills private equity firm, cashed in its chips – or pretzels – when it sold its majority stake in Pasadena pretzel chain Wetzel's Pretzels to CenterOak Partners, a Dallas private equity firm.
The terms of the deal were not disclosed, but Bill Phelps, co-founder and chief executive of the food chain, the second-largest owner and franchiser of soft pretzel stores in the country, called it "an absolutely fabulous deal for everyone." He is the largest individual shareholder in the business.
The company, which started in 1994, won't close any of its approximately 300 stores or lay off any of its employees, according to Phelps. The headquarters will remain in Pasadena. Co-founder Rick Wetzel, who also co-founded pizza chain Blaze Pizza, will remain as a board member and investor, Phelps said.

"I think pretty much our growth strategy for Wetzel's is to continue to open more stores with franchise partners," said Randall Fojtasek, CenterOak's managing partner.
Levine Leichtman, which has managed $7.5 billion of institutional capital since its founding, was closing its fund and so had to sell off Wetzel's. Though firm representatives did not respond to a request for comment, Chief Executive Lauren Leichtman said in a statement that the Wetzel's investment had been very successful for the firm and its investors.
Levine Leichtman took its stake in 2007 and was part of growth that saw the chain expand from about 190 locations during that time. Though no valuation was given, J&J Snack Foods Corp., a larger publicly traded competitor in a similar space, has a market cap equal to about 2.25 times revenue. If that metric held true for Wetzel's, the company would have an overall value of about $370 million. The size of the stake that traded was not disclosed.
CenterOak, formed in 2014, focuses on middle-market companies in industrial growth, consumer, and business services. It beat out 30 other bidders in an auction, according to Phelps.
"CenterOak had experience and owned a lot of companies in the restaurant space," he said. "They understood our business model and the challenges we face. They love our brand and our track record."
The private equity firm helped grow Dallas-based restaurant Cheddar's Casual Café to 130 locations in the United States from 42, according to its website.
The biggest challenge for Wetzel's Pretzels, whose same-store sales are up 6.7 percent this year, is real estate, according to Phelps.
"It's hard to get the exact right location at the right rent," he said. In the past, 85 percent of the chain's stores were in malls. Now they can be found in airports, amusement parks, and in Walmart supercenters.
For reprint and licensing requests for this article, CLICK HERE.