Broadcasters Set to Tackle Rams' Regular Season
SPORTS: Local offerings include new radio show with coach Jeff Fisher.
Friday, September 9, 2016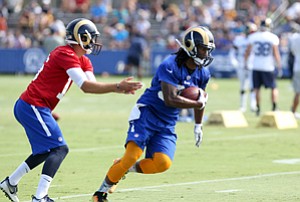 The Los Angeles Rams are ready for regular season football – and so are its broadcast partners.
The National Football League team's final 53-man roster and 10-man practice squad – which was finalized earlier this month – was formally introduced at a luncheon downtown by KCBS (Channel 2) sports director Jim Hill on Sept. 6 as a crowd of local media and brand sponsors cheered enthusiastically. And local fans turned out in droves for the Rams' two preseason home games at the Los Angeles Memorial Coliseum on Aug. 13 and Aug. 20 before the team hit the road for games in Denver and Minneapolis on Aug. 27 and Sept. 1, respectively.
The last three preseason games, carried locally on KCBS, averaged a 3.5 Nielsen score, representing an average of 296,000 viewers. While the final preseason game, which fell on a Thursday night, averaged a 3.4 rating for an average of 218,000 viewers, the Aug. 27 game brought in an average of 388,000 viewers, making it the most watched program in the L.A. market during the 6 p.m. timeslot that Saturday.
Meanwhile, the first episode of HBO and NFL Films' popular "Hard Knocks" series, which debuted Aug. 9 and documented the Rams' training camp at UC Irvine, was watched by 4 million viewers, including encore showings, according to the cable network.
While the last episode of "Hard Knocks" aired Sept. 6, local fans can still get the inside scoop on game strategy with Rams head coach Jeff Fisher each week beginning Sept. 13 when ESPN's KSPN-AM (710) will debut "The Jeff Fisher Show." Joining Fisher will be J.B. Long, the station's Rams play-by-play announcer, and former Rams player D'Marco Farr, who now works as a sideline reporter for the station. The weekly show will be broadcast and streamed live from Bogies at the Westlake Village Inn and is open to the public.
For the more lifestyle-inclined football fan, NBCUniversal's E! Entertainment network will air its own Rams reality docuseries called "Hollywood & Football," which follows the lives of players and their families off the field as they adjust to life in Los Angeles. It's slated to premiere in November.
Downloading Business
Beverly Hills-based PodcastOne, a national advertiser-supported podcast network, has announced a partnership with Forbes Media to launch the "Forbes on PodcastOne" network. Scheduled to launch next month, it is to have four programs focused on business, women, and technology. Future podcasts will expand to include video gaming, sports, and entertainment.
Prev Next
For reprint and licensing requests for this article, CLICK HERE.