Broadcasters Set to Tackle Rams' Regular Season
SPORTS: Local offerings include new radio show with coach Jeff Fisher.
Friday, September 9, 2016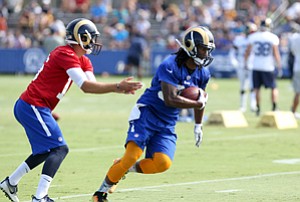 The Los Angeles Rams are ready for regular season football – and so are its broadcast partners.
The National Football League team's final 53-man roster and 10-man practice squad – which was finalized earlier this month – was formally introduced at a luncheon downtown by KCBS (Channel 2) sports director Jim Hill on Sept. 6 as a crowd of local media and brand sponsors cheered enthusiastically. And local fans turned out in droves for the Rams' two preseason home games at the Los Angeles Memorial Coliseum on Aug. 13 and Aug. 20 before the team hit the road for games in Denver and Minneapolis on Aug. 27 and Sept. 1, respectively.
The last three preseason games, carried locally on KCBS, averaged a 3.5 Nielsen score, representing an average of 296,000 viewers. While the final preseason game, which fell on a Thursday night, averaged a 3.4 rating for an average of 218,000 viewers, the Aug. 27 game brought in an average of 388,000 viewers, making it the most watched program in the L.A. market during the 6 p.m. timeslot that Saturday.
Meanwhile, the first episode of HBO and NFL Films' popular "Hard Knocks" series, which debuted Aug. 9 and documented the Rams' training camp at UC Irvine, was watched by 4 million viewers, including encore showings, according to the cable network.
While the last episode of "Hard Knocks" aired Sept. 6, local fans can still get the inside scoop on game strategy with Rams head coach Jeff Fisher each week beginning Sept. 13 when ESPN's KSPN-AM (710) will debut "The Jeff Fisher Show." Joining Fisher will be J.B. Long, the station's Rams play-by-play announcer, and former Rams player D'Marco Farr, who now works as a sideline reporter for the station. The weekly show will be broadcast and streamed live from Bogies at the Westlake Village Inn and is open to the public.
For the more lifestyle-inclined football fan, NBCUniversal's E! Entertainment network will air its own Rams reality docuseries called "Hollywood & Football," which follows the lives of players and their families off the field as they adjust to life in Los Angeles. It's slated to premiere in November.
Downloading Business
Beverly Hills-based PodcastOne, a national advertiser-supported podcast network, has announced a partnership with Forbes Media to launch the "Forbes on PodcastOne" network. Scheduled to launch next month, it is to have four programs focused on business, women, and technology. Future podcasts will expand to include video gaming, sports, and entertainment.
"The idea for a partnership grew out of a meeting we had at the Cannes-Lions festival last year," said Norm Pattiz, founder and executive chairman at PodcastOne. "Forbes wanted to build out its podcasts, but didn't want to start from scratch in terms of distribution to do so. They provide the hosts and content while we provide the best ad-supported network available."
The deal includes joint efforts in podcast development and production as well as distribution, promotion, marketing, and advertising sales, capitalizing on the companies' combined reach. Forbes boasts 6.8 million magazine readers in the United States and approximately 50 million unique monthly visitors to Forbes.com, while PodcastOne's lineup of 200 programs saw 1.5 billion downloads in 2015, according to the companies.
Forbes contributors and staff journalists will report from all over the world, while most production for the podcasts will take place in Beverly Hills, New York, and New Jersey.
"Forbes on PodcastOne" programs will be available for free on Forbes.com, PodcastOne.com, the PodcastOne app and iTunes.
Snapping Up Millennials
In addition to its new Rams show and its well-established hits such as "Keeping Up With the Kardashians" and "Total Divas," E! is looking to bring in more millennial viewers – its core fan base – by creating programming on the popular Snapchat mobile app. E! has just launched an original weekly series called "The Rundown," which premiered on Sept. 8 through Snapchat's Discover feature.
Created exclusively for Snapchat, the fast-paced show is among the first of its kind. Hosted by E! News correspondent Erin Lim, the program offers a humorous and irreverent look at trending pop culture content from TV shows such as "Dancing With the Stars" to news stories.
Staff reporter Kristin Marguerite Doidge can be reached at kdoidge@labusinessjournal.com or (323) 549-5225, ext. 226.
For reprint and licensing requests for this article, CLICK HERE.