Ports Awash in Bankrupt Shipping Line's Cargo
TRADE: Hanjin's collapse could prove big blow to Long Beach operations.
Friday, September 2, 2016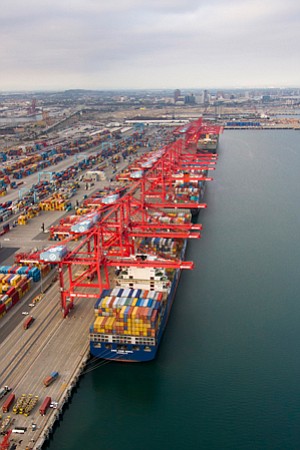 The fallout from Hanjin Shipping filing for bankruptcy and ceasing operations last week was immediate, as cargo ships sat off the California coast unable to dock and freight companies scrambled to move their cargo.
These problems might only compound in the coming weeks, trickling down to retailers who won't receive their merchandise on time, lenders whose loans won't be paid, and holiday shoppers who could find fewer items on shelves and higher prices, according to Richard P. Ormond, a senior partner at downtown-based law firm Buchalter Nemer who represents a number of West Coast manufacturers.
"There could be a really disastrous chain reaction if things don't go well," Ormond said.
And things may not go well at all, certainly for creditors of Hanjin Shipping Co. Ltd., and perhaps for many of its customers, said Ormond, who also specializes in receivership law. Now that Hanjin is under court receivership in South Korea, the process of getting creditors to accept new financing simply to pay docking fees could be difficult, while moving through the bankruptcy process might take weeks or months.
He said the U.S. government was likely to take action to establish a receivership for the company here as well to put Hanjin's assets under court protection, keeping them in the United States and better protecting American creditors.
When the dust clears, some of Hanjin's assets might end up sold off to fellow South Korean carrier Hyundai Merchant Marine or other shipping companies, while many of Hanjin's operations are likely to close, Ormond said. The impact could be felt even more in Southern California.
"The trouble is Hanjin, for the West Coast, is one of the largest carriers that shipping companies deal with," he said.
Ripple effect
Hanjin is the seventh-largest cargo container carrier in the world, owning or chartering 98 ships and handling about 3 percent of global container shipping, according to shipping data tracker Alphaliner. At the Port of Long Beach, however, it moves more than 10 percent of containers and has a majority ownership in the port's largest terminal. Like many shipping companies, Hanjin has struggled with low demand and prices as the Chinese economy has slowed, putting it billions of dollars in debt.
Last week, three cargo-laden Hanjin ships bound for Long Beach were forced to sit at sea because they couldn't pay docking fees, according to the Marine Exchange of Southern California. A fourth Hanjin ship was at anchor in the Long Beach harbor under orders by local authorities not to leave.
Prev Next
For reprint and licensing requests for this article, CLICK HERE.