Record Sale Could Cost House of Bijan Home
Last Rodeo?
Friday, September 2, 2016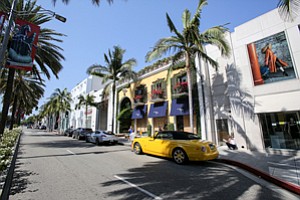 The House of Bijan's home might soon come tumbling down.
The ritzy clothier's Rodeo Drive site sold in July for $122 million, and sources familiar with the Beverly Hills retail market predict that the new owner, the parent of luxury lifestyle brand Louis Vuitton, will eventually replace the famous yellow storefront with a bigger building.
Maximizing the square footage at the site, between South Santa Monica Boulevard and Brighton Way, would make sense for a deal that set a California retail record of $19,405 a square foot. And it would allow LVMH Moet Hennessy Louis Vuitton Inc. to customize a snazzy storefront for one of its many luxury brands, which include Fendi, Givenchy, and Marc Jacobs.
"They don't want someone else's cute little building, they want their own look," said Stephen Algermissen, executive director for capital markets at Cushman & Wakefield. "It's all a part of marketing and branding. … That's why it's so incredibly valuable." 
What the acquisition means for the 40-year-old House of Bijan is uncertain.
The company had the property under contract for $108 million when owner Barton C. Brooks Trust, represented by Holliday Fenoglio Fowler's Bryan Ley, Marc Schillinger, and Bill Fishel, decided to sell, according to two sources familiar with the deal. But rather than seeking to close the transaction it went to the market and flipped its contract to LVMH.
Ley, reached at the time of the sale in July, declined to discuss details of the transaction.
Nicolas Bijan, the retailer's principal and son of founder Bijan Pakzad, who died in 2011, said he could not discuss the transaction or the status of its lease under a confidentiality agreement. However, he said that the brand, known for dressing President Barack Obama, basketball star Michael Jordan, and Russian President Vladimir Putin, values its spot on the world stage of luxury shopping.
"This year we are celebrating our 40th anniversary on Rodeo Drive, and we will continue to maintain a major presence on Rodeo Drive for the indefinite future," he said via email. "There is no better location in the world than Rodeo Drive."
Just what kind of presence remains to be seen. There are only two vacancies at present on Rodeo, according to Houman Mahboubi, senior vice president for retail at Jones Lang LaSalle. (He is the nephew of Dar Mahboubi, Bijan's chairman and president, though was not involved in the sale.)
The appointment-only store could also seek a second-level space on Rodeo, substantially cheaper than a ground-floor presence.
Prev Next
For reprint and licensing requests for this article, CLICK HERE.