Trump's L.A. Golf Course Still Carrying Handicap
REAL ESTATE: Property value may lie in residences.
Monday, October 31, 2016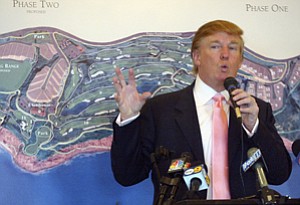 Donald Trump's only development in Los Angeles, the Rancho Palos Verdes golf course he purchased in 2002 and poured more than $250 million into fixing up, struggled to live up to revenue expectations amid the 2008 recession and tumult in the golf industry.
So, the GOP presidential candidate did what many other businesses did during that time to stay afloat: He asked for a tax break.
Records obtained from the Los Angeles County Assessment Appeals Board show Trump National Golf Club successfully petitioned to lower its assessment in 2008, 2009, and 2010, knocking it down to $10.7 million from $21.8 million.
Since then, with the economy mostly back on track, the property's assessed value rebounded this year to $14.1 million, still well below its earlier assessment. Despite the fanfare that accompanied its opening, the course seems to have never truly lived up to financial expectations and one day could be plowed under for a more lucrative residential development.
Trump National opened in January 2006 to a flurry of press describing it as the most expensive golf course ever built and link enthusiasts praising the manicured lawns, ocean views, and a clubhouse decked out with chandeliers.
Behind the scenes, Trump deemed the course a success, too. In a December 2007 deposition connected to a legal dispute over his net worth, the billionaire real estate developer projected the course would attract enough golfers for 40,000 rounds a year, at weekend rates of $375 a round and weekday rates of $275 a round. At that volume, Trump said the course could generate earnings before debt service between $6 million and $8 million.
"Right now the course is now just coming into its own. … We're projected to do very, very well this year," he said at the time, though the deposition came just months before the economic collapse.
Representatives for both Trump's campaign and Trump National did not return calls requesting comment.
While Trump's early vision might have never been fully realized, Trump National hasn't been alone in its struggles.
Golf courses across the board, even prestigious ones, operate on slim margins, according to industry experts. Although they enjoy reputations as luxury destinations frequented by celebrities, courses are hardly cash cows.
"Golf courses are not nearly as valuable as the public perceives them to be," said Los Angeles County Assessor Jeffrey Prang.
Money pit
The biggest golf course sale in the United States this year fetched $32 million, according to brokerage Marcus & Millichap. But the average sale price nationwide, out of nearly 80 sales, was just $3.7 million.
Prev Next
For reprint and licensing requests for this article, CLICK HERE.