Spirited Season May Be in Store
Halloween pop-up shops expect presidental race, hit films to lift costume sales.
Friday, October 21, 2016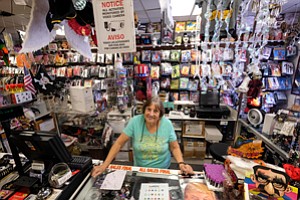 This year is expected to mostly bring treats for retailers, property owners, and employees in L.A.'s Halloween industry.
The improved economy, new costume trends, and the holiday's celebration on a Monday this year have combined to raise expectations of a particularly profitable Halloween season.
Americans are expected to spend a record $8.4 billion on Halloween-related purchases this year, including candy, costumes, and decorations, according to a report by research firm Prosper Insights & Analytics commissioned by the National Retail Federation. That would be a rise from $6.9 billion last year and the highest amount in the 11 years the firm has conducted the survey.
Locally, there appear to be more temporary Halloween stores this year than last. Commerce-based Aahs, which owns six Aahs Gift Stores and two year-round Halloween shops in Los Angeles and Orange counties, has 20 Halloween Club temporary stores this year, up three from last year.
The company, which has about 150 employees year-round, hired 700 seasonal employees for Halloween this year. Aahs, founded in 1981, has several employees whose full-time job is to look for real estate for the pop-ups.
"Aahs is definitely the big player in the area," said Derrick Moore, a principal at commercial real estate brokerage Avison Young who has worked with the chain. "They get out early. They have established relationships with owners that typically go back a while."
Leases for the short-term Halloween shops usually start in September and last 60 days and can be lucrative for property owners who have a vacant space. Moore said a rental might be between $5,000 and $10,000 a month, depending on the size and location of the space. Retailers might pay a flat upfront fee or give a percentage of sales, such as a 50-50 split for sales over $50,000 or 6 cents out of every dollar on sales over $50,000 or $100,000.
Competitive market
That seasonal competition can be tough on costume stores that are open year-round, such as Ursula's Costumes, which has been in Santa Monica for more than 20 years. A pop-up store opened up two blocks away this year, making business harder, said owner Ursula Boschet.
"They get everything cheaper and buy it by the thousands, and we can't afford that," said Boschet.
Almost 47 percent of Halloween purchases will be from discount stores this year, according to the Prosper report, followed by 36 percent at specialty Halloween or costume stores.
Despite the general migration of retail sales to the internet, Halloween stores are less affected, said Jack Singh, an owner of Aahs Gift Stores and operator of the Halloween Club pop-ups with a partner.
"Online is another competitor, the way we see it," said Singh. "It's not really effective because you can't buy a costume online and expect it to fit."
Sales were tracking 4 percent higher daily compared with the same period between Sept. 1 and Oct. 31 last year, said Singh, who has been with the company since 1984.
Sweet spot
The fact that Halloween falls on a Monday has made for more sales, Singh said.
"This year is a different kind of Halloween," said Singh. "It's not just one big event. It's stretched out."
People will start celebrating on Thursday, so there are five days for possible activities, he said. Many people are buying more than one costume this year, he added, for adult parties and then trick-or-treating with the kids.
At Ursula's Costumes, costumes range from $35 to $900 for a Darth Vader Supreme Edition costume with light and sound. At Spirit Halloween, one of the other major pop-ups that has about 20 stores this year, costumes sold online range from $50 for a basic Harley Quinn costume to $200 for a premium version.
On average, consumers across the country are projected to spend almost $83 each, compared with $74 last year, according to the Prosper study.
Businesses are also feeling obligated to buy decorations because they will be open on the day itself.
"A lot of banks and offices seem to be interested in decoration," he said. "Small setups seem to be all over the place."
A variety of new trends are making people eager to buy costumes, Singh said.
The presidential election has fed into costume sales, with people being drawn to wigs and masks for both candidates.
The popularity of action films to come out this year has also been a factor.
"A lot of movies came out this year that translate well to costumes," said Singh, singling out "Suicide Squad" and "Batman v Superman: Dawn of Justice" in particular. According to Prosper, Batman-related costumes are the most popular costumes for people ages 18 to 34 this year, and action and superhero costumes are the most popular for kids.
People dressing up their pets has been on the rise, with Prosper saying that 16 percent of respondents plan to dress up their animal. Halloween Club and Aahs have more than 100 pet costumes in stock this year.
"Pets have been a source of constant growth over the past seven to eight years," said Singh. "Now it's really beginning to mushroom into an important business for us."
For reprint and licensing requests for this article, CLICK HERE.