Violinist Shed Labels With Music Career
Lindsey Stirling uses YouTube to cue up sales, fan connection.
Friday, November 25, 2016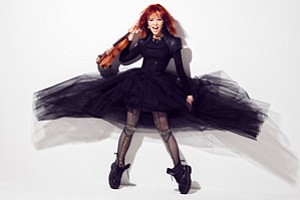 L.A.-based hip-hop violinist Lindsey Stirling might be making hit records, but she's doing it without an actual label.
Since discovering YouTube in 2007, Stirling has used it to connect with the more than 8.7 million fans that subscribe to her channel, boost album sales, and attract potential corporate sponsors.
Stirling's U.S. tour for her third album, "Brave Enough," has sold out in most cities this fall, and she recently played to a sellout crowd of 3,400 people at Hollywood's Dolby Theatre on Nov. 10.
"Everything changed once I discovered YouTube," said Stirling. "Fans could decide what they liked for themselves. There was no gatekeeper."
The album, which debuted at No. 1 on the iTunes album chart upon its Aug. 19 release, features several musical collaborations with award-winning artists such as ZZ Ward and Christina Perri. Her sophomore album, "Shatter Me," was just certified gold by the Recording Industry Association of America after selling 500,000 copies.
Stirling said multiple record labels turned her down for being too different – something that actually became an asset for her online.
"I'm a dubstep violinist," she said. "I didn't know it at the time, but it was perfect viral content."
Her self-titled debut includes the song "Crystallize," which has racked up more than 160 million YouTube views. According to Stirling's spokesman, she was the fourth-highest earner on YouTube last year, with her videos generating about $6 million in ad sales.
However, that number doesn't come close to what she makes from album sales, touring, and sponsorships, said Stirling, though she declined to disclose those figures.
"YouTube is the nucleus for me for everything else," she said. "It's a way to talk directly to my fans, and also a way to link directly to music videos and sell concert tickets."
– Kristin Marguerite Doidge
For reprint and licensing requests for this article, CLICK HERE.