Zoning Out
Development struggles in part stoked by social media have Jerry Snyder strictly focused on entitled properties
Friday, November 18, 2016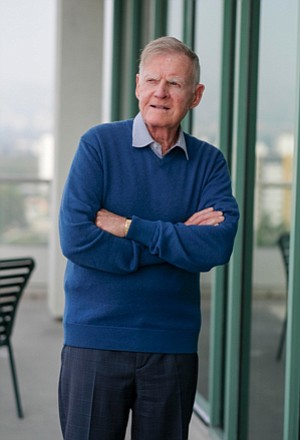 Jerry Snyder is finally tying off a loose thread. More than 15 years after renovating the SAG-Aftra building on Wilshire Boulevard on the Miracle Mile, the veteran developer, now in his mid-80s, will break ground next year on Wilshire Curson, a $170 million, 12-story building next door. It will mark the first major office construction on Miracle Mile since the late 1980s, when Snyder built the 1 million-square-foot Wilshire Courtyard complex across the street. The new project, a 250,000-square-foot development designed by Jerde Partnership, follows two recent Hollywood office projects from his JH Snyder Co. – Hollywood 959 and 1601 Vine.
You've been at this a while, what's become the biggest challenge in development?
Zoning is very difficult. It is because of social media. When I built the Water Garden, we'd talk to neighbors about what they'd want and there'd be 30 people. Now when you start a project, there will be social media, and people will say terrible things that may or may not be true. Now you're dealing with a room of 500 people. I'll pass.
How has that changed your work?
Now I'll only buy property that's totally entitled.
How do you feel about the Neighborhood Integrity Initiative on the March ballot?
I got a call today, asking if I wanted to give money to fight it, and I said no. I'm being somewhat selfish. Everything I have is either built or entitled. I have nothing that would be affected by this. I think it's a terrible idea, but that's my personal opinion.
But you did do the work to get Wilshire Curson entitled.
I bought this property in 1978. Three years ago I got the entitlements done. It's all ready to go and past any possibility of a challenge.
How is Miracle Mile changing these days?
This area is so exciting. I don't think people have any idea what the (Academy of Motion Picture Arts and Sciences') Motion Picture Museum is doing. … People from all over the world will come. And the subway will be done in three years, they say.
Your last three projects have been built on spec. You're clearly comfortable with the risk.
I get fat on risk. I gain weight on risk. I don't believe in Southern California that you can prelease a building. Until we start construction, then we start getting action. If you prelease a job, you're at the mercy of a tenant. They know you need them.
Would you consider building in an emerging area like downtown?
The whole Arts District is something I don't understand. But it's booming. We almost did a project downtown, but the area has 30,000 units coming on board, so I decided not to jump in.
So, are there areas you're targeting?
My jobs generally happen by accident. I don't have a crew out there looking for property. I'll be at a dinner, and someone will say, Oh, Jerry, I didn't think of you – I have this property. That's not very scientific is it? Always by accident.
How do you know you're making the right move?
You get into a project and come to a fork in the road: Do I go forward and put money it, or do I abandon it? Then you come to another fork in the road: You put more money in it. Then you have a moment to go right or take the left fork and drop out. I learned how to drop out. I used to always go right and buried myself. And I won't do that anymore. I will walk away from something and take a loss.
Do your kids ever wish you would move to your lakeside home in Montana and retire?
People who are retired talk about yesterday. People who are in business talk about tomorrow. I belong to a country club, and all the people are retired, and they are miserable. Here's a guy who had a company, used to have the corner office like I do, and sells his business for a lot of money and moves out to the desert. … And they just are bored to death. Some people can retire and get involved. They do painting, they're heavily into charities, and they're happy – but they're generally people who hated what they were doing.
And you don't.
If something comes along tomorrow that was entitled and ready to go, I'd really take a hard look at it. I would fly up to Seattle and talk to my pension funds and boom, you've got a deal. That would be exciting.
For reprint and licensing requests for this article, CLICK HERE.