Ad Tech Firms Drawing Attention as Acquisitions
INTERNET: Rubicon faces tough road as independent amid shifting industry.
Friday, November 18, 2016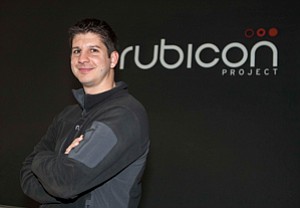 After Rubicon Project released a disappointing quarterly earnings report on Nov. 2, some analysts and industry players began to wonder if the online advertising exchange would remain an independent entity for much longer.
In fact, after several years of consolidation in the ad tech industry, local independent ad exchanges such as Rubicon and Pasadena's OpenX are increasingly appealing acquisitions targets, said Jeff Zwelling, founder of Santa Monica marketing analytics firm Convertro, which was acquired by AOL Inc. in 2014 for $101 million.
"It's kind of inevitable that the eventual outcome is to be swallowed up by someone who has a larger base of customers," said Zwelling, now chief operating officer at Santa Monica's ZipRecruiter Inc. "It's really hard to be a subscale player when you are going up against Facebook and Google."
Google alone accounted for half of the nearly $60 billion U.S. online advertising market last year, according to data released by the Interactive Advertising Bureau and Pivotal Research, with Facebook taking in $8 billion. Compare that to the $248 million and $140 million in revenue that Rubicon and OpenX respectively generated last year.
Consolidation
Over the last few years, online ad exchanges have been gobbled up by online publishing companies looking to add to their advertising operations. Twitter Inc. acquired mobile ad exchange MoPub for $300 million in 2013; Facebook bought video ad exchange LiveRail for a reported $400 million in 2014; and AOL Inc. purchased mobile ad exchange Millennial Media for $238 million last year.
Justin Dearborn, chief executive of Chicago's tronc Inc., which owns the Los Angeles Times, acknowledged in September that his company was interested in acquiring an ad tech firm, naming Rubicon as an example of the type of company they'd consider. Other possible buyers could include the likes of Salesforce.com, IBM Corp., or Oracle Corp., said Kerry Rice, an analyst at Needham & Co. in San Francisco, who named Rubicon and its ad exchange technology as a potential target.
"It wouldn't surprise me if someone bought them," he said.
Rubicon could be appealing to companies that have been adding advertising analytics and purchasing tools to their suites of marketing software, but don't yet own an advertising exchange, which would ensure that their client's ads are effectively delivered to target audiences.
Remaining independent
Despite the churn in the ad tech industry, Rubicon Chief Executive Frank Addante said in an email that he wanted to remain independent and is excited by the company's progress in the mobile and video sectors.
"Our ability to innovate and move quickly in a crowded marketplace has led us to become one of the top three mobile exchanges globally in less than 24 months," Addante said.
Tim Cadogan, chief executive of online ad marketplace OpenX, which also offers a real-time bidding platform, said his company aims to remain independent as well. It positions itself as an alternative to Google, Facebook, and AOL. While those three might dominate the online ad-selling market, many ad agencies prefer to diversify their campaigns across multiple exchanges in order to avoid becoming beholden to prices dictated by one party.
"The reason it's smart to be independent is you provide a real alternative to publishers," Cadogan explained.
But scale has its advantages and marketers appreciate being able to one-stop shop when they buy advertising, said Gabe Gottlieb, chief executive of Santa Monica ad analytics firm Pathmatics, who explained that industry consolidation means competitors can offer a greater number of services.
"These midsized firms are absolutely facing pressure to be part of a bigger offering," he said.
Value drop
But values have declined amid disappointing earnings at public ad tech companies, and that could mean good news for buyers.
Case in point: The share price of TubeMogul Inc., an advertising-purchasing software developer, peaked above $23 in December 2014 but has since cratered, falling to $7.31 earlier this month. On Nov. 10, Adobe agreed to acquire the Emeryville firm for $14 a share, or $540 million.
Rubicon and OpenX insist they have the resources to remain independent. Rubicon's revenue grew to about $249 million last year from $84 million in 2013. It had $154 million in cash and cash equivalents on hand in the quarter ended Sept. 30. OpenX, which is private, said it had more than $140 million in revenue last year, representing an increase of 40 percent year over year.
Still, there are challenges to being a small fish in a big pond, especially when your industry has fallen out of favor with investors, who are disappointed with ad tech valuations. U.S. venture capital firms invested just $860 million in ad tech firms last year, the lowest amount since 2010, according to venture capital data company PitchBook.
For reprint and licensing requests for this article, CLICK HERE.