Apartment Deal Linked to Chinese Food Chain
ACQUISITION: Cherngs of Panda Express could be behind Pasadena pickup.
Friday, November 11, 2016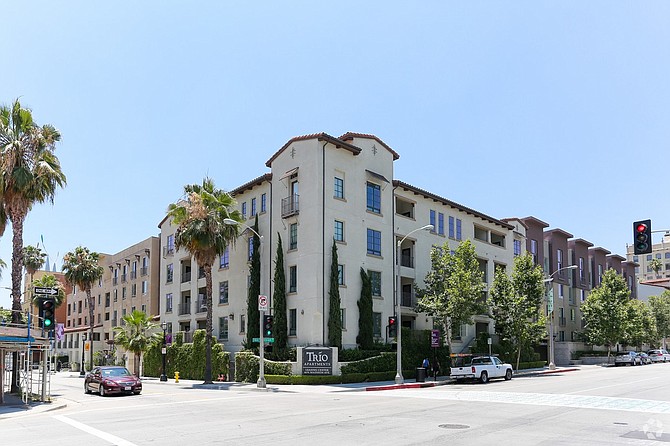 A Pasadena multifamily property has traded into local hands for $154 million.
A Rosemead-based private partnership that appears to be connected to Panda Express co-founders Andrew and Peggy Cherng purchased the 300-unit Trio Apartments complex this month from financial services giant TIAA, according to public records.
Matthew Dobson and Joshua Levy of Arbor Realty Capital Advisors Inc. represented the buyer, who they identified only as a limited liability company called Trio Pasadena.
Public records show the company is registered to the same address as the headquarters of Panda Restaurant Group Inc., co-owned by the Cherngs, whose net worth is estimated at $2.9 billion by Forbes. (The couple ranked No. 25 on the Business Journal's Wealthiest Angelenos list in 2014, but have since moved their residence to Las Vegas.) Their Cherng Family Trust is also based at the Rosemead address.
Joseph Smolen and Geoff Boler of Eastdil Secured represented the seller, which purchased the site in 2011 for $112.3 million.
Neither broker responded to a request for comment.
Dobson said the deal was highly competitive given the property's massive size – 300 apartments, more than 14,600 square feet of retail space, and a 900-car parking garage, all taking a city block – as well as its location. The building is about a block from the Pasadena Playhouse, and within walking distance of Old Pasadena and the Paseo Colorado shopping center.
"It's very prestigious, given the difficulty of creating it again," he said. "It's difficult to find a full city block in one of the best areas of Pasadena."
One benefit of the large size is being able to incorporate outdoor common areas that feel calm and quiet, according to Dobson.
"There are places in that building where you feel like you're in a garden," he said. "That's what makes Trio unique."
The challenge of the scale could simply be finding the resources to make substantial renovations.
"Capital improvements are pricey," Levy said. "If you're going to start upgrading corridors and common areas, you need to spend a lot in order to do it."
Trio is nearly full, Levy and Dobson said, reflecting strong demand throughout Pasadena. Rents there are among the highest in Los Angeles County, according to November data from Apartment List. One-bedroom units fetch a median price of $2,110 a month, reflecting a 3.8 percent increase over last year.
Seeing Double
Another prime Playa Vista office asset has been sold.
Mani Brothers Real Estate Group, based in West Hollywood, purchased the 100,756-square-foot Landing at Playa Vista building for $80 million, or about $794 a square foot.
The seller, Hudson Pacific Properties, picked up the site in 2014 for $38 million, or about $396 a square foot. It was vacant at the time, and the real estate investment trust has upgraded the property.
It is now fully leased, with tenants including co-working giant WeWork and marketing company Dentsu Aegis Network Ltd.
Broker Bob Safai of Madison Partners represented Mani in the off-market deal, along with Matt Case and Brad Schlaak. Safai said the six-story building offered a strong complement to an office across the street, Twelve555, that Mani purchased last year for $48.5 million.
"It's a definite statement that the Mani brothers believe in Playa and planted their flag right in the center of the Playa market," Safai said. "It's just another indication that whether it's high-net-worth family money or institutional money, everyone is committed to the market long term."
Simon Mani, co-founder of Mani Brothers, said the growth of high-profile technology companies in Playa Vista made the site appealing.
"We look forward to providing the office spaces of choice for these global companies," he said in a statement.
Santa Monica Splash In a sign of boom times for Santa Monica, the Lantana office campus sold last week for $400 million, or about $825 a square foot, according to a source close to the deal. It's one of the priciest recent deals in the seaside city, after Colorado Center's July sale for about $863 a square foot.
The new co-owners are Santa Monica-based Artisan Realty Advisors and New York's Brightstone Capital Partners, they said in a statement. Both companies were formed earlier this year by veteran real estate professionals; Brightstone is backed by Chinese developer China Vanke Co.
For reprint and licensing requests for this article, CLICK HERE.