Stars' Media Sites Draw Major Players Into Orbit
INTERNET: Acquisition of celebrity-guided ventures can bring niche audiences.
Friday, November 4, 2016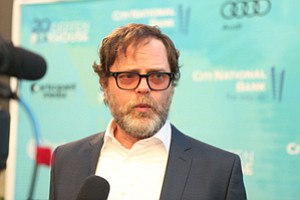 While he played the offbeat, principled loner Dwight Schrute in NBC's hit series "The Office," off-screen Rainn Wilson has been building an entertainment company that capitalizes on his real-life quirkiness.
His 7-year-old SoulPancake, an east Hollywood business, has been producing online and video content that's thoughtful, joyous, and funny enough to catch the eye of Participant Media. The Beverly Hills producer responsible for "Spotlight" and "An Inconvenient Truth" last month announced its acquisition of SoulPancake and its 15 employees. The terms were not disclosed.
By acquiring the company, Participant gains the passionate, niche audience that follows the actor and his socially conscious media brand, said Peter Csathy, founder and chairman of Creatv Media, a digital media consulting and business development firm.
That's the kind of appeal that many mainstream media companies are increasingly looking to tap by acquiring celebrity-founded enterprises.
Last year, actress Zooey Deschanel's 5-year-old, female-focused lifestyle website, Hello Giggles, was acquired by Time Inc. for an estimated $20 million. Legendary Entertainment has snapped up a few star-powered companies as well, including Nerdist Industries, a pop culture website by comedian and podcaster Chris Hardwick, in 2012, and Amy Poehler's Smart Girls, which the actress created to produce online content promoting female empowerment, in 2014.
Although Participant had established itself as a company that prioritizes social impact through its films and news website, Take Part, it never had a digital-first, multimedia-heavy strategy, said Csathy.
"Text doesn't play well in a mobile-first world," he said. "The language of mobile is video."
Which is what SoulPancake brings to the table with its nearly 2 million YouTube subscribers and TV division that produces scripted and documentary content for networks including MTV, ABC Family and Oprah Winfrey Network. SoulPancake effectively extends Participant's brand to platform areas it was not in before.
"Rather than build it themselves, they bought it," Csathy said.
Banking on a celebrity's brand can be a challenge for an acquiring company. The success in integrating these operations into larger media operations depends largely on how involved celebrities remain.
In the Participant deal, Wilson will transition into a "consulting role," in which he will advise on the business and creative aspects of SoulPancake as well as on creative direction for Participant as a whole, according to a spokeswoman for SoulPancake. Although she added Wilson is very active in the company, Csathy said maintaining a celebrity's genuine persona and mission under a new partnership can be tricky.
"To retain the authenticity of what you were as an independent … there's certainly no playbook for that," he said.
Content creation
Wilson created SoulPancake in 2009 with friends Joshua Homnick and Devon Gundry and backed it with some of his own cash and through funding from a handful of other investors. The team was joined by Shabnam Mogharabi, who came on as head of content and has since worked her way through roles as chief operating officer, chief executive, and now general manager.
When SoulPancake launched as a website, it was focused primarily on building a social community through text content, polls, interactive activities, and videos. Then, Oprah Winfrey – who had met Wilson when he appeared on her podcast in 2009 – approached the actor to create video content for her website and, ultimately, the Oprah Winfrey Network.
"If Oprah asks you to do something, you do it," said Mogharabi.
SoulPancake soon after shifted its business model to a video-based platform, she said, and growth has been strong ever since. Mogharabi credits the proliferation of digital cameras and distribution platforms with making it easier to make, access, and share video content. Since its inception, SoulPancake has scored a daytime Emmy; acquired millions of online followers; and released a Web docuseries, "My Last Days," that made the jump to the CW network in August.
Overall industry trends are moving toward immersive journalism and storytelling through virtual reality, Csathy said. Even traditionally text-focused online media outlets, such as BuzzFeed and Vox, have been making a push toward producing more video content.
"Every business needs to be focusing on video engagement," he said.
Looking to scale
SoulPancake began thinking about the company's own next chapter last year, said Mogharabi, and decided to look for possible investors to help scale growth. Instead, the company was approached by Participant about an acquisition.
"SoulPancake truly aligns with Participant's model of creating inspiring entertainment that compels global awareness and action," said Participant Chief Executive David Linde in a statement.
That's a different approach than many celebrity-branded retail products, such as perfumes, take. They don't require much investment from stars beyond marketing, but in the media industry, a successful business requires a lot more personal investment from the personality behind it, said USC media professor Gabriel Kahn.
By forming their own media brands, celebrities are able to connect directly with fans and convert their fame into another source of revenue and recognition, said Kahn.
"Celebrities themselves realize that in the age of YouTube and in the age of an incredibly diffuse media market … they need to be more in control of their own audience and they need to directly try to leverage their own following," he said.
Nerdist's Hardwick has built a media empire since his company was purchased by Legendary four years ago. The "Nerdist" podcast that he hosts now garners nearly 7 million downloads each month; Hardwick hosts shows on AMC and Comedy Central; and he's slated to be the face of a new NBC game show called "The Wall," executive produced by LeBron James.
Hardwick and celebrities like him only achieve such levels of success after their company's sale if they are empowered to speak with the same language, tone, and authenticity they always have, said Csathy.
"I actually don't think that the celebrity name matters as much as the social grasp of the person behind it," he said.
For reprint and licensing requests for this article, CLICK HERE.