Stars' Media Sites Draw Major Players Into Orbit
INTERNET: Acquisition of celebrity-guided ventures can bring niche audiences.
Friday, November 4, 2016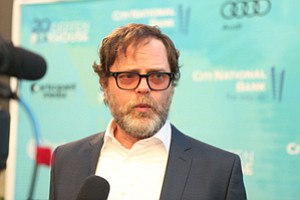 While he played the offbeat, principled loner Dwight Schrute in NBC's hit series "The Office," off-screen Rainn Wilson has been building an entertainment company that capitalizes on his real-life quirkiness.
His 7-year-old SoulPancake, an east Hollywood business, has been producing online and video content that's thoughtful, joyous, and funny enough to catch the eye of Participant Media. The Beverly Hills producer responsible for "Spotlight" and "An Inconvenient Truth" last month announced its acquisition of SoulPancake and its 15 employees. The terms were not disclosed.
By acquiring the company, Participant gains the passionate, niche audience that follows the actor and his socially conscious media brand, said Peter Csathy, founder and chairman of Creatv Media, a digital media consulting and business development firm.
That's the kind of appeal that many mainstream media companies are increasingly looking to tap by acquiring celebrity-founded enterprises.
Last year, actress Zooey Deschanel's 5-year-old, female-focused lifestyle website, Hello Giggles, was acquired by Time Inc. for an estimated $20 million. Legendary Entertainment has snapped up a few star-powered companies as well, including Nerdist Industries, a pop culture website by comedian and podcaster Chris Hardwick, in 2012, and Amy Poehler's Smart Girls, which the actress created to produce online content promoting female empowerment, in 2014.
Although Participant had established itself as a company that prioritizes social impact through its films and news website, Take Part, it never had a digital-first, multimedia-heavy strategy, said Csathy.
"Text doesn't play well in a mobile-first world," he said. "The language of mobile is video."
Which is what SoulPancake brings to the table with its nearly 2 million YouTube subscribers and TV division that produces scripted and documentary content for networks including MTV, ABC Family and Oprah Winfrey Network. SoulPancake effectively extends Participant's brand to platform areas it was not in before.
"Rather than build it themselves, they bought it," Csathy said.
Banking on a celebrity's brand can be a challenge for an acquiring company. The success in integrating these operations into larger media operations depends largely on how involved celebrities remain.
In the Participant deal, Wilson will transition into a "consulting role," in which he will advise on the business and creative aspects of SoulPancake as well as on creative direction for Participant as a whole, according to a spokeswoman for SoulPancake. Although she added Wilson is very active in the company, Csathy said maintaining a celebrity's genuine persona and mission under a new partnership can be tricky.
For reprint and licensing requests for this article, CLICK HERE.
Prev Next