Hotel Project Would Dig Deep for Beverly Hills
DEVELOPMENT: China's Dalian Wanda OK with additional taxes, fees.
Friday, November 4, 2016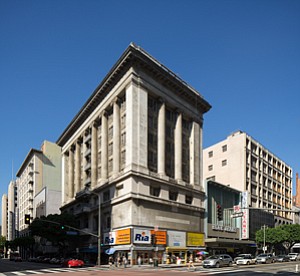 Chinese developer Dalian Wanda Group is poised to pay megabucks to the city of Beverly Hills in an unprecedented development deal for the construction of its elite condo-hotel project, One Beverly Hills.
The agreement, which awaits City Council approval, would require Wanda to pay an extra tax on top of the standard transient occupancy tax for its 134 hotel rooms. The company would also pay a percentage of sales on its 193 condos, plus $60 million in upfront fees.
"I've never seen anything like this," said Alan Reay, president at Atlas Hospitality Group. "It is diametrically opposed to what's going on in almost every other city in California. … In downtown, they're giving away huge tax rebates to entice hotel developers."
Not so in posh Beverly Hills, where a rivalry between One Beverly Hills and the Waldorf Astoria is underscoring the desirability of a Beverly Hills address. The Waldorf, being developed by Beny Alagem's Oasis West Realty, is to be a single 26-story tower next to One Beverly Hills in place of two shorter towers that were already approved. The plan will go before Beverly Hills voters this week as Measure HH, with Wanda fiercely opposing the idea.
"Beverly Hills is one of those cities where everyone wants to be there," said Bruce Baltin, managing director of CBRE Hotels, "but there are limited opportunities for development."
The development agreement, described in a city statement, hikes up the rates drafted in an earlier version of the agreement. It would require Wanda to pay a new "municipal surcharge" of 5 percent of gross room revenue in addition to the 14 percent transit occupancy tax. Montage Beverly Hills and Waldorf Astoria also pay this extra 5 percent tax, reflecting the premium for any hotel developer to operate in Beverly Hills.
The agreement would also increase environmental and sustainability fees, requiring Wanda to pay 1.25 percent of the first sale of any part of the property, and 2 percent of any sales to follow. Finally, it would double the upfront fees, bringing that cost to $60 million.
Beverly Hills officials estimate that the project will generate roughly $820 million in revenue to the city over the next three decades.
"Without any doubt this is by far the best development agreement ever negotiated for Beverly Hills, and possibly the richest development agreement per square foot negotiated anywhere by a municipality," Mirisch said in the prepared statement.
Prev Next
For reprint and licensing requests for this article, CLICK HERE.