Collectors Now Look to Hang With Artists Online
INTERNET: Saatchi Art's site offers virtual opening to promote, sell works.
Sunday, May 29, 2016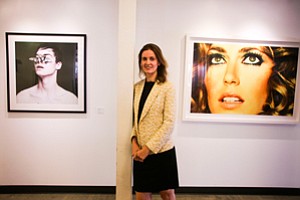 You can buy almost anything on the internet these days.
That's even true in the world of art – an industry often characterized by star-studded gala openings where artists ply their wares to well-heeled collectors in the flesh.
Saatchi Art has built a growing business by taking the art world in a new direction: online. The Santa Monica business, a division of Demand Media Inc. after its 2014 purchase for $17 million in cash and stock, is set on turning the traditional art gallery model on its head by offering paintings, sculptures, photography, and other fine art on its website.
The platform has more than 500,000 original artworks created by more than 60,000 artists, and it claims to have customers in 80 countries.
"The art business is a very big business overall, but still a very small portion of it by most estimates is online," said Sean Moriarty, Demand's chief executive. Revenue from the company's online publishing divisions eHow and Livestrong has shrunk drastically in recent years, placing Saatchi Art and its sister art print business Society6 at the core of the company's turnaround efforts. The company does not break out Saatchi Art or Society6's revenue individually, but its combined e-commerce revenue grew by 47 percent last year to $52.2 million, representing 41 percent of its revenue, according to regulatory filings.
At the core of Saatchi Art's appeal is an effort to change the process of buying and selling art by making it as easy as, say, ordering a book on Amazon.com.
"Our mission is to fill a global gallery to support emerging artists around the world and enable people to discover their art without having to go to lots of different galleries," said Rebecca Wilson, Saatchi Art's chief curator. "The art world has historically been very elitist and difficult for people to penetrate, whether you are an artists or someone who wants to purchase art."
Surprisingly, established artists and galleries don't appear threatened by Saatchi Art and online competitors such as Artsy and ARTtwo50 Inc.'s Vango Art. If anything, they see the emergence of online art dealing as a new distribution channel that could expand the public's appetite for buying works.
"Does it replace the gallery, museum, art fair, or studio experience? No," said Edward Cella, owner of Edward Cella Art+Architecture, a contemporary art gallery in Culver City's Arts District that also sells artwork on its website and other online marketplaces. "But it makes the shopping experience easier for some people. I think of it as an additional way for someone to look at and consider work."
Prev Next
For reprint and licensing requests for this article, CLICK HERE.