Hyperloop Technologies Raises $80 Million, Runs First Test in Las Vegas
Wednesday, May 11, 2016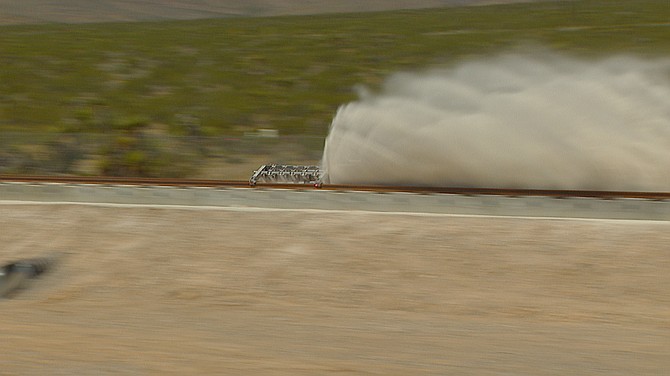 Hyperloop Technologies Inc. has closed an $80 million Series B funding round and secured development partnerships with several large engineering firms.
The downtown company, which was just renamed Hyperloop One, also conducted a test of its railcar on a tubeless track in North Las Vegas on Wednesday. Over the course of just a few seconds, the railcar accelerated to more than 100 miles per hour before being intentionally slammed into a pile of sand.
"We are proud to show off our progress today and look forward to meeting more milestones on our way to debuting a full-scale system later this year," Brogan BamBrogan, Hyperloop One co-founder and chief technology officer, said in a statement.
The company also announced several nonspecific development partnerships with engineering and infrastructure planning firms, including Century City's Aecom, Switzerland-based Amberg Group, and Germany's Deutsche Bahn Engineering and Consulting.
Hyperloop One said it is conducting several privately funded feasibility studies to analyze the economic and social benefits of a route between Stockholm and Helsinki.
The firm also said it is participating in a feasibility study with Arcturan Sustainable Cargo of Los Angeles to determine how the transportation technology can streamline the movement of containers from the ports of Long Beach and Los Angeles.
Should the company demonstrate that it can move cargo safely using the hyperloop system, it could swiften the adoption of passenger travel using the technology.
"Educating the public, showing them something like Hyperloop works for transporting freight is really important," said Jeff Joyner, an intellectual property attorney specializing in transportation technology at Century City's Greenberg Traurig. "The more you can get consumers excited about new technology, and show them that it is safe and viable, the more likely it is to reach that tipping point."
Hyperloop One's $80 million Series B financing round was raised from more than 70 investors, according to a filing with the Securities and Exchange Commission. Investors included Sherpa Ventures, Khosla Ventures, SNCF (French National Rail), and GE Ventures.

Technology reporter Garrett Reim can be reached at greim@labusinessjournal.com. Follow him on Twitter @garrettreim for the latest in L.A. tech news.
For reprint and licensing requests for this article, CLICK HERE.