SPECIAL REPORT: Peter Guber: Running Up Big Scores
Blockbuster film producer Peter Guber has expanded beyond Hollywood hits to running sports teams, including NBA champs Golden State Warriors, by maintaining his focus on providing entertainment value
Friday, March 25, 2016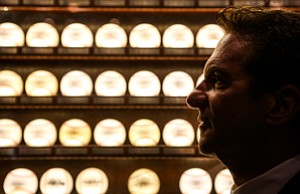 The lecture hall at UCLA's Anderson School of Management was packed with some 80 M.B.A. students, listening in rapt attention to the man at the podium whose trim build, brown hair, and sheer energy belied his 74 years. Indeed, Peter Guber would fit in among most professors at the Westwood university. But his speech about leadership skills on a recent evening drew from hard-won experience, not book learning.
"You have to really emotionalize the offering," Guber said in a husky voice that retains more than a hint of the brogue of his Boston youth. "Just look at that dumbbell running for president! When you're running a business, you have to shape that emotion inside a proper narrative. Otherwise, you'll never hold the attention of your audience."
Guber has commanded the attention of audiences for more than four decades, from producing Hollywood blockbusters in the 1970s and '80s to his latest passion, professional sports. In addition to minor league baseball and professional soccer teams, Guber has taken stakes in the Los Angeles Dodgers and reigning NBA champs the Golden State Warriors.
"He's the first in the room to remind everyone that we're competing against every other form of entertainment in the marketplace, and we should never forget that," said Adam Silver, commissioner of the National Basketball Association.
As different as film and sports might be, they still rely on putting audiences in the seats and drawing viewers to the screens. And in that, Guber has excelled.
"He views sports as a passionate form of entertainment," said Bob Bowman, president of business and media for Major League Baseball. "While we all understand sports as a competitive process with a score at the end of it, every owner has come to realize it's an incredibly valuable piece of entertainment."
For his varied contributions to the entertainment and sports industries in Los Angeles, the Business Journal has named Guber the Business Person of the Year. He joined the Business Journal's Business Hall of Fame at a luncheon March 23 at the Millennium Biltmore Hotel in downtown Los Angeles.
Curious kid
Howard Peter Guber was born in 1942 near Boston, the youngest of three sons of a metal broker father and stay-at-home mother. He loved to see the Boston Red Sox play at Fenway Park and to tinker with electronics.
"I was a curious kid," Guber recalled. "I would do science fair projects, building big transmitters and receivers and antenna displays to be able to build electronic equipment to speak around the world."
If he wasn't quite clear then about his career ambitions, he knew they would be big.
After attending Syracuse University, he earned both a master of law and juris doctor at New York University. Even at school, film reporter Alex Ben Block, who knew Guber back then, said the future producer displayed much of the enthusiasm he has today.
"He always had a lot of energy," said Block. "He was incredibly intelligent with a great thirst for life."
That Guber would end up in Hollywood was not a foregone conclusion. Pursuing yet another degree – a master's in business administration at NYU – several companies came scouting for talent. One of the three Guber interviewed with was Columbia Pictures.
"I was flown out to California and suddenly I had a job offer," said Guber. He never finished business school.
"I was smart and they were just casting around for good athletes," he said, metaphorically describing Columbia's aim to hire a hard worker to train for a corner office.
Guber, then in his mid-20s, joined Columbia's production and studio operations in 1968, moving to Los Angeles with his college sweetheart wife, Lynda Gellis, who now goes by Tara Lynda Guber, and their young daughter, Jodi.
Moving up
By 1973, at just 31, Guber became Columbia's vice president of worldwide production.
"He was smart and aggressive and really understood the business," said NBCUniversal Vice Chairman Ron Meyer, who met Guber in the 1970s. "He was young, but he had no doubt that he knew what he was doing."
Long before IMDb, Guber set up a bulletin board in his office to track every film project in Hollywood. Actors, directors and producers – among them Sidney Poitier and Steven Spielberg – would come by Guber's office to consult the so-called "board of directors."
He also impressed higher-ups with his excitement for technology such as VHS tapes, computers and databases.
His reputation was growing quickly.
"He was known as a guy who understood and appreciated tech long before the sleepy men of the industry," said reporter Block.

Two years after he was elevated at Columbia, Guber was ready to set out on his own, with a company called Filmworks. He merged it with Neil Bogart's record label to form Casablanca Record and Filmworks Inc. in 1976. Bogart died in 1982.
Producer Lynda Obst, who reviewed scripts for the company in her first Hollywood job, said Guber was known for being dazzling.
"Peter understood that information was power," she wrote in her 1997 book, "Hello, He Lied: And Other Truths From the Hollywood Trenches." "He used to say that 'whoever has the most information wins,' and humbled every grown-up around him with the spectacular display of what he knew."
She declined to comment for this story.
'Aqaba!'
Guber's first big production was the 1977 underwater thriller "The Deep," starring Nick Nolte and Jacqueline Bisset, and he applied all the dazzle he could to reel in moviegoers, including orchestrating elaborate licensing, merchandising and promotional deals.
The reviews were lukewarm, but the box office was hot.
"He took a regular, normal kind of product and made it seem extraordinary," said Block.
For much of this time, the business was just that – a business with product to be created and marketed. It wouldn't be for another decade or so that Guber began to think in grander terms about the work he was doing.
Attending a screening of 1962's "Lawrence of Arabia" in 1989, he turned in his front-row seat to gaze at the audience behind him – men and women of diverse races, ethnicities and ages equally engrossed in the film.
"I recognized then that I was in the emotional transportation business," he said, using a phrase he coined to emphasize the common thread in his film, TV, music, sports, and technology projects.
To rally colleagues to his newfound vision, Guber borrowed a line from the film. As Lawrence urges his troops across a vast desert to battle the Turks, he pushes them forward by proclaiming their destination: "Aqaba!"
It became Guber's war cry, too.
"The impossible is just an opinion," Guber said, explaining Lawrence's motivation. "His job was to do what they called a miracle. If he could do that, he could make those people feel a lot of things were possible and re-energize them."
Powerful partners
One person who latched on to that philosophy was Jon Peters, who became Guber's business partner for about a decade.
Peters had edged his way into Hollywood in the late 1970s as a charismatic hairdresser with movie mogul ambitions who dated Barbra Streisand. After joining Guber's PolyGram Entertainment, the two co-founded Guber-Peters Entertainment Co. and set up shop at Columbia in 1983.
Their partnership spawned some of the hits for which Guber is best known, including "Flashdance," "The Color Purple," "The Witches of Eastwick," "Gorillas in the Mist," and "Rain Man."
Stacey Snider, the co-chairman at 20th Century Fox Film, got her first Hollywood job at Guber-Peters. The pair, she said, were among the most influential producers of the 1980s and '90s, along with Spielberg, Jerry Bruckheimer, and the team of Ron Howard and Brian Grazer.
"Guber hit his stride when he realized that there were certain high-visibility, high-impact movie ideas," said Snider.

One of the biggest hits to come out of Guber-Peters was Tim Burton's 1989 "Batman," which raked in a then-record $100.2 million in its first 10 days of release.
That success was key to one of the biggest studio deals Hollywood had ever seen – Sony Corp.'s $4.8 billion acquisition, including debt, of Columbia in 1989. Looking for talent to run its new jewel, Sony bought Guber-Peters for $200 million. That, in turn, cost the company an additional $500 million; Guber and Peters were under contract at Warner Bros., which sued Sony over their departure, eventually settling for an estimated half-billion dollars.
Fortunes reversed
Within five years, the high hopes had faded and Guber left Sony just as the studio announced a write-down of $3.2 billion.
"He burned Sony's money. Everyone who's old enough to be around in that era will not forget it," said Kim Masters, editor-at-large at the Hollywood Reporter.
Masters' 1996 book "Hit and Run: How Jon Peters and Peter Guber Took Sony for a Ride in Hollywood," co-written with Nancy Griffin, depicts the duo as entrepreneurs who cared more about nailing deals ripe for heavy promotion than crafting quality cinema.
"People think he had a great run in the industry and made a lot of money," said Masters. "I don't think they confuse him with someone who's a giant talent in the film business."
But others said Guber – like everyone else in the business – knows that not every film will be a blockbuster or win an Oscar.
"When you run a studio, you release movies and some win and some lose," said Allen Shapiro, chief executive of Dick Clark Productions, which is partially owned by Guber's Mandalay Entertainment. "They release them on a Friday, you walk into the office on a Monday. … You have to learn to not let them cripple you."
Looking back at his time at Sony, Guber has little to add.
"There's no controversy out there, there's no controversy at all in 25 years," he said. "I left there in 1995, and I stayed with them for three more years with (Mandalay). There's nothing I can tell you that's not been opined on."
Guber attributes much of the Sony write-down to an overpayment for Columbia and continued payments on inherited debt.
And he doesn't dwell on it.
"I'm happy with things that didn't work for me, learned from them," he said. "And I'm happy with things that did work for me."
Signs of success Guber's office at his 10-acre Bel Air estate is a museumlike collection of memorabilia. Along one wall, some 50 trophies chronicle his career, from the 1988 best picture Oscar for "Rain Man" to last year's Warriors NBA championship trophy. Photographs of Guber with Bill Clinton and Nelson Mandela are propped on windowsills near a mannequin dressed in a Batman costume. Just beyond a patio landscaped with jasmine, a spacious yard boasts a view of the L.A. skyline, from Dodger Stadium west to Century City.
Guber has lived in this compound of Mediterranean-style buildings with his family since the early 1990s. His wife, Tara, is the founder of yoga education company YogaEd, which grew out of her volunteer work for schools in South Los Angeles, and has published several yoga books. She sits on the boards of the Golden State Warriors Foundation and UCLA Health board, and the Joyful Heart Foundation's National Advisory Committee. Guber has donated to his wife's endeavors, as well as to UCLA's Anderson School of Management and its School of Theater, Film and Television.
The couple's eldest daughter, Jodi Guber Brufsky, is chief creative officer at athletic wear company Beyond Yoga in Culver City. Younger daughter Elizabeth Guber Sugarman is pursuing a Ph.D. and raising three young sons. Both are in their forties. Guber's two sons, Sam, 22, and Jackson, 21, are in college.
On a recent afternoon, Elizabeth's sons, ages 5, 6, and 7, burst into the study, calling their grandfather "Papa P."
"Who's there?" Guber playfully called out. "Ohhhh! Trouble has arrived!"
After gawking at baseballs signed by Babe Ruth, the boys wanted to see the NBA championship trophy displayed behind a glass case.
"Can you touch that one?"
"I can if I want to," Guber replied.
Up at bat
Guber's first foray into sports came during his time at Sony in the 1990s, when he tried to put a deal together to buy cable network Prime Ticket, the Los Angeles Kings hockey club, a stake in the Los Angeles Lakers, and the Forum in Inglewood.
It didn't work out, but Guber had gotten a taste of new opportunities and decided to aim higher: going after teams rather than cable operations or venues.
As the years passed, he made unsuccessful runs at buying the Lakers, Dodgers, Kings, Miami Heat and Oakland A's. But Guber kept at it, picking up new negotiation skills in every botched deal and still believing, he said, that "the game is worth trying."
He eventually partnered with NBA star-turned-entrepreneur Earvin "Magic" Johnson to buy a collection of minor league baseball franchises, which he has since sold off, some for record prices.

Russell Goldsmith, chief executive of City National Bank and a friend since the 1980s, said those projects paved the way for his current holdings.
"Peter was smart enough, and in some ways courageous enough, to invest in minor league baseball, and spend time in a lot of communities that aren't as comfortable as Manhattan or Hollywood, and learn a lot about sports," he said.
His biggest turnaround came closer to home. In 2010, he bought the Warriors with Kleiner Perkins Caufield & Byers partner Joe Lacob and several other investors for $450 million.
"Everybody scoffed at us. They were a major market team not doing very well. Our business plan was to build a culture," Guber told the Business Journal last year.
The team, which last year won its first NBA championship in 40 years, is now valued by Forbes at $1.9 billion.
When the Dodgers went up for sale in 2011 amid the fallout of then-owner Frank McCourt's divorce, Johnson recruited Guber to join the new ownership team as part of the $2 billion deal.
With his newfound elite sports pedigree, Guber was positioned to create a new L.A. team, summoning nearly two dozen investors to buy a Major League Soccer franchise in 2014 for $100 million. Guber is executive chairman and counts Johnson, soccer star Mia Hamm, actor Will Ferrell and motivational speaker Tony Robbins among his partners.
Despite having to build a team from scratch in a market that just saw the Chivas USA franchise fold, Guber remains confident about the prospects for the Los Angeles Football Club.
"I feel very bullish about it," he said. "But we're a long way. This is a marathon, not a sprint."
Still creating spectacles
Part of the marathon – for all his teams – is turning game days into entertainment spectacles, no matter which side wins.
"You're in the business of trying to create magic," Guber said. "If you don't delight your fans, they won't return."
Cue the two big stadium projects Guber is backing – one in San Francisco for the Warriors and another for the Football Club in downtown Los Angeles. He also has an eye on enhancing the fan experience at Dodger Stadium, one of the oldest major league ballparks.
Those projects demand attention to the tiniest of details, including lighting, sound, food, merchandise, and bathrooms, as well as the integration of mobile technology.
NBA Commissioner Silver said as the San Francisco project has advanced he has learned from Guber, whom he calls a mentor.
"He has an almost childlike exuberance and desire to learn new things," Silver said. "It's infectious."
In Los Angeles, the new soccer stadium designed by downtown firm Gensler is slated to open in two years next to the Los Angeles Memorial Coliseum at a cost of $250 million. City leaders have welcomed the project for its long-term investment in Los Angeles, with the capacity to bring together a growing legion of soccer fans.

"LAFC takes its civic responsibility very seriously and will bring community and tourism dollars as well as a commitment to hire local workers," said Los Angeles County Supervisor Mark Ridley-Thomas.
Despite Guber's heavy involvement in sports − he attends meetings for all his teams, even for the Warriors in San Francisco, along with many of his teams' games – he has continued to churn out films at Mandalay, the company he founded in 1995 after splitting from Sony.
"The Birth of a Nation" – about a 19th century slave rebellion – snagged a $17.5 million distribution deal from Fox Searchlight in January, setting a Sundance Film Festival record. Mandalay came in with financing after the film was written, and Guber emphasized that writer-director-star Nate Parker was the creative force behind its development.
"This is Nate Parker's vision and his baby," he said.
Critics are already buzzing that the film is well-positioned for the 2017 Oscar race – especially coming after a second year of #OscarsSoWhite controversy.
Guber shrugged off that distinction, saying that he has long backed films featuring African-American casts, including "Boyz n the Hood," "Poetic Justice" and "The Color Purple."
"The only color that I like is green," he said. "Being successful. Lots of green. I'm in show business. I'm not in show show, I'm not in show politics. ... I have to get a return on my investment for my investors. That's my responsibility."
It is the opportunity to tackle new audiences, whether in film or sports, that can present him with his toughest problem.
"I have an insatiable creative appetite," he said. "My biggest challenge is not becoming a glutton."
For reprint and licensing requests for this article, CLICK HERE.