Mall Scales Back on Big Tenants
DEVELOPMENT: Promenade owner buys into smaller shops.
Friday, March 25, 2016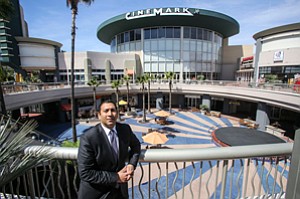 Anchors once had enough mass to hold a shopping mall in place. These days, having one can really weigh a project down.
Landing a large department store tenant was once the aim of every retail developer with a big project in the works. But as many of those chains have retrenched, leaving huge vacancies in their wake, mall owners have been forced to chart a new course.
Many are ditching the anchor store concept. The latest planning a sweeping makeover is Westchester's Promenade at the Howard Hughes Center, which has tacked toward an approach that calls for smaller stores and amenities such as eateries, fire pits, and art deco facades.
"The look, feel, and touch are important," said Austin Khan, chief investment officer for Century City's Laurus Corp, owner of the Promenade. "Those types of concepts don't take 40,000- or 80,000-square-foot boxes."
As part of a $30 million upgrade of the Westchester mall, the portion of the project once occupied by Nordstrom Rack, which left before Laurus bought the property in 2012, will get chopped into smaller spaces. Khan plans to fill that nearly 42,000-square-foot space with a mix of retailers and restaurants, seeking out unique and experience-driven businesses keen to capitalize on the Playa Vista boom less than three miles away. He said he expects renovations to begin by the fall and to be completed early next year.
"It would be easy to bring in a big-box retailer, but it's not what the center needs to be successful in the long run," Khan said. "And it's not a good fit for the what the community is looking for."
Old model
Shopping malls for decades followed the same design concept: a large retailer with a well-known name – think Macy's, Walmart, and Nordstrom – sat amid dozens of smaller stores. The sheer gravity of the anchor store, the thinking went, would draw enough traffic to the center that all would thrive. It was a symbiotic relationship: Anchors often pay lower per-square-foot rents than other shops and can serve as the blue-chip tenant that is the linchpin in securing construction financing.
That business model – like so many others of its time – has largely been rendered obsolete with the rise of e-commerce, as shoppers opt for the convenience of clicking over the hassle of parking.
As a result, in large part, of these shifting patterns, retailers that once blazed their logos across big-box anchor stores that took tens of thousands of square feet are cutting back. Macy's Inc. is closing nearly 40 stores, including a location in Irvine. The chain reported a 31 percent drop in earnings last quarter. Kohl's Corp. recently announced it would close 18 stores, including seven in Southern California, after seeing fourth-quarter profits fall by 20 percent. Sears Brands is cutting back on its Kmart and Sears stores, and Walmart Stores Inc. is adjusting its footprint – closing more than 150 stores nationwide but planning to open 140 in the next year.
For reprint and licensing requests for this article, CLICK HERE.
Prev Next