Comics Get Help Facing Grief Stages
Laugh Factory owner brings in psychologist to help stand-ups cope.
Friday, March 25, 2016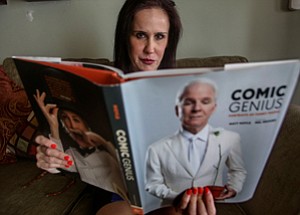 Though it's one of the most famous comedy clubs in Los Angeles, Hollywood's Laugh Factory has also seen its fair share of tragedy.
In the wake of Richard Jeni's suicide in 2007 and Greg Giraldo's overdose in 2010 – both were frequent performers at the club – owner Jamie Masada decided to try and help.
Shortly after Giraldo's death, Masada hired Culver City psychologist Ildiko Tabori, 45, to begin a "residency" at the Laugh Factory in early 2011. Five years on, comedians can still schedule a session with Tabori in the evenings before they take the stage. She's typically there Monday through Thursday.
"Comedians have the same issues as the rest of us," Tabori said. "However, they have a lifestyle that exacerbates any pre-existing depression or anxiety. When they're out on the road, they are lonely."
Masada pays for a comedian's first six sessions. If they choose to continue treatment beyond that, which is often the case, Tabori will work with them on fees and offer a sliding scale if needed.
According to Tabori, Robin Williams' suicide in August 2014 had a devastating effect on the Laugh Factory community. She said it took about six months for several comedians to work through the issues stirred up by Williams' death.
Masada said knowing that comedians are meeting with Tabori gives him peace of mind.
"I sleep better at night," he said.
– Elyse Glickman
For reprint and licensing requests for this article, CLICK HERE.