Plane Frustrating
LAX project may hurt before lifting businesses.
Monday, March 14, 2016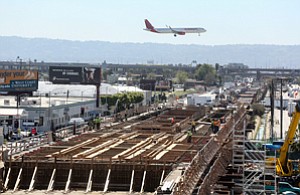 While the $5 billion overhaul of Los Angeles International Airport looks set to improve transportation links in the long term, nearby businesses are worried about the traffic nightmares seven years of construction could cause first.
"Things are going to get worse before they get better," said Laurie Hughes, executive director of Gateway to L.A., a business improvement district representing hotels, offices, retailers, restaurants and other interests around the airport. "We're concerned about lane closures and emergency response time. There are going to be delays."  
Businesses there anticipate nobody getting anywhere fast and intersection closures driving potential customers away.
"The businesses around LAX are going to be impacted as well as residences," said Los Angeles City Controller Ron Galperin, adding that Los Angeles World Airports, the governmental agency that operates the city's airports, needs to produce a plan to mitigate traffic during construction. "You can't address every impact and fix every problem, but with a comprehensive plan you can address those problems to keep businesses alive and help them thrive."
Construction projects typically cause problems for neighboring businesses, of course. But what makes the LAX project unusual is that it will affect businesses in a big area in an already crowded neighborhood and it will last not months or a year or two but seven years.
Transport links
Work on the megaproject will start later this year but is expected to take until 2023 to complete. The makeover involves the overhaul of Terminal 2, construction of a consolidated car rental facility and a 2.2-mile people mover that will link the airport to the new LAX-Crenshaw light-rail line.
Meanwhile construction of that line, which started in 2012 and is due to be completed in 2019, is already creating congestion.
Cozette Vergari, a partner at Century Boulevard law firm Vergari & Napolitano, said, "Occasionally they shut down lanes on Century Boulevard and major intersections. So we set our appointments around their schedule."
So far, she said her 15 employees have been able to adjust.
"The construction changes employees' routes to work," she said. "But it impacts our employees more than our clients."  
Still, to Vergari, the short-term pain is worth the long-term gain. She is looking forward to a time when the people mover will run near her office, allowing her clients to reach the area without a car.
"I see the positive development here," she said. "We need improvement in terms of having transportation centralized and take out the congestion." 
The people mover, with a projected price tag of $2 billion, is a sort of a light-rail system that will run 70 feet above the ground.
Big plans
A car rental center, which will consolidate all rental vehicles in one large facility close to 405 freeway access, will cost from $850 million to $1 billion.
It will be part of a transit hub at 96th Street and Aviation Boulevard that also will include passenger drop-off and pickup areas and the people mover.
Airport authorities say the overhaul will allow travelers to quickly navigate the airport's facilities and nine terminals.
As of now, many passengers arriving at LAX have to board a shuttle, ride for 2½ miles and then bear their luggage to a car rental facility, parking lot or Green Line.  
But after the megaproject's completion, passengers will be able to walk out of the airport and ride the people mover to a parking lot or the new light-rail station. Visitors can ride the people mover to the car rental facility and then drive straight onto the 405 without a risk of being lost on side streets.
Positive impact
Among those focusing on the positive long-term impact of the airport's facelift is City Councilman Mike Bonin who represents LAX and surrounding communities.
"I'm very excited about the tremendous changes at LAX, especially the new transportation options we're creating to get to and from the airport," he said in a statement emailed to the Business Journal. "It will make getting to and from LAX more convenient and will take cars off the roads of Westchester and Playa del Rey, which will be a big improvement for both local traffic and the environment."
Christina Davis, LAX Coastal Chamber of Commerce president, said the transportation hub will give the surrounding district a much needed boost.  
"It's the busiest business district that no one wants to go to," Davis said. "Hopefully, it will open tremendous opportunities for new types of businesses." 
She believes the modernized transit facilities will reel in retailers and restaurants.
"We currently don't have a lot of restaurants and stores for travelers who come to the area," she said.
Such additions would likely be welcomed by hotel guests along Century Boulevard who are forced to travel a few miles away for good dining options.
"The majority of travelers stay at those hotels one or two nights maximum because there is not a lot to offer," Davis said.
Nancy Castles, an LAX spokeswoman, said the transportation hub near Aviation and 96th will also provide space for new businesses. 
"If you are coming from the airport, there will be some locations for those who're planning to be eating and shopping in the area," she said.
Gateway to L.A.'s Hughes added that hotel owners see the transit project linking up hotels on Century, the airport and the upcoming football stadium in Inglewood. 
"Our hotels are the closest to the stadium," Hughes said." When you think of people coming in and staying, it makes it even more attractive."
And in regards to the project's short-term pain, many hope the airport will find a way to keep traffic under control during construction.
"We've been waiting for a long time for this," Hughes said. "We keep our fingers crossed hoping for a minimal impact."
For reprint and licensing requests for this article, CLICK HERE.