New FAA Rules Offer Lift to Drone Businesses
AVIATION: Guidelines cut back on requirements for pilots, reduce paperwork.
Friday, June 24, 2016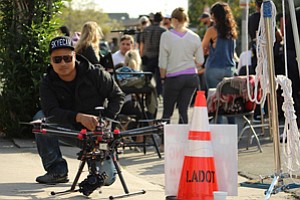 In a decision that drone filming industry advocates say will relieve regulatory burdens, the Federal Aviation Administration has announced new rules for the commercial use of unmanned aircraft weighing less than 55 pounds.
Drone operators are no longer required to obtain a pilot's license, file a pile of paperwork, and wait for FAA flight approval. They will now be able to pilot drones as long as they have taken ground school and passed a written FAA knowledge test.
"It will make drone filming a lot easier," said Keith Kaplan, interim chief executive of UAVUS, a Beverly Hills-based association of professional unmanned aerial vehicle operators. "This is going to usher in a new era of aviators that are unmanned aircraft pilots."
The rules are not likely to go into effect for a couple of months, pending the schedule for public comments, but should free up L.A. drone operators to take on more work and perfect their craft, said Kaplan.
"Los Angeles is ground zero for the innovation and the proliferation of air robotics," he said. "Just as Los Angeles has created Steadicam technology, it's been the leader of creating and accepting air robotics in the creative arts."
There will still be restrictions on the ways drones are flown, including a speed limit of 100 mph, an altitude restriction of 400 feet, limitations on flying at night, and the requirement that operators keep a line of site on their drone. But the relaxed rules should be a boon for business, said JJ Trinidad, owner and operations manager of Hollywood-based Skyecam, which does drone filming for TV shows, film shoots, real estate promotions, and industrial inspections.
"We are very excited about the new rules because we no longer have to do the FAA plan of activity, certificate of operation, and notice to airmen," he said. "We lost a lot of business because of all these strict regulations."
The previous requirement that drone operators get a pilot's license was particularly frustrating, said Trinidad.
"Anyone who flies unmanned aircraft knows that flying drones has little to do with flying with a manned aircraft," he said. "A lot of people went out and wasted their time getting their pilot's license when they didn't need to do that."
While regulations are generally moving in the right direction, there is work to do, such as making it easier to fly at night, said Trinidad.
"Technology is always going to advance faster than policy," he said. "In order for this country to grow technologically and economically, they need to embrace this technology."
Prev Next
For reprint and licensing requests for this article, CLICK HERE.