Disney Might Face Giant Letdown at Box Office
FILM: Steven Spielberg's take on Roald Dahl tale 'BFG' has little buzz.
Friday, June 24, 2016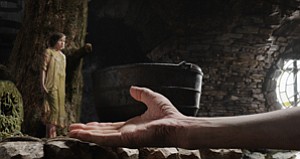 Walt Disney Co.'s new film "The BFG," which stands for "Big Friendly Giant," looks set for an unfriendly welcome at the box office.
Expectations are poor based on industry tracking data and there has been little advance buzz or discussion on social media about the July 1 release, particularly when compared with other summer blockbusters.
Despite an estimated cost of around $200 million, the film, based on a Roald Dahl children's book, is expected to bring in $31 million in its opening four-day holiday weekend and $85 million overall domestically, according to movie data website BoxOfficePro.com. That means the film would require big overseas numbers to break even.
Should the movie underperform, it would mark a rare disappointment for Disney after a stellar start to this year thanks to hit family films "Zootopia," "The Jungle Book," and "Finding Dory."
But the Burbank entertainment giant seems to be brushing aside the doubters, sounding a bullish tone about the Steven Spielberg-directed project's chances. The movie features Oscar winner Mark Rylance in the title role and visual effects by Peter Jackson's Weta Digital.
"'BFG' is the first Disney-branded film Spielberg has directed, and features a dream team of producers including Kathleen Kennedy," said Dave Hollis, chief of distribution for Walt Disney Studios. "The Weta technology helps create more of an event feel, and helps reach a more worldwide audience."
With the exception of 2005's "Charlie and the Chocolate Factory," all other films released in the last 20 years based on books by Dahl have misfired at the box office, including "Fantastic Mr. Fox," "Matilda," and "James and the Giant Peach."
Tickled Pink
A dark and bizarre corner of L.A.'s entertainment business takes center stage in "Tickled," the highest-grossing documentary in the country last week.
The film examines the shadowy world of endurance tickling contests for which men from around the country fly to Hollywood and compete to see how long they can be tickled with a feather in tournaments that are filmed and screened online.
After grossing $24,000 on opening weekend earlier this month from just two theaters, the Nuart in West Los Angeles and the Sunshine in New York, the release has expanded to more than a dozen theaters nationwide.
The controversy surrounding the film could have been a box-office draw.
A June 17 question-and-answer session at the Nuart featuring co-director Dylan Reeve was repeatedly interrupted by one of the documentary's subjects, Kevin Clarke, who repeatedly shouted comments such as "This is garbage and lies" before later confronting Reeve in the lobby and accusing him of using quotes in the documentary Clarke claimed had been off the record.
Filmed footage of that confrontation went viral after being posted by the film's distribution company, Magnolia Pictures.
Magnolia representatives did not return requests for comment.
Chilled Peppers
L.A. rock band Red Hot Chili Peppers has just released its first new album in five years after recovering from various health scares. Bassist Flea, real name Michael Balzary, broke his arm while mountain climbing and singer Anthony Kiedis made it through a bout of intestinal flu before the group was able to finish "The Getaway."
The album features a more chilled-out sound courtesy of producer Danger Mouse, real name Brian Burton, who took over from Rick Rubin, producer of all the band's albums since 1989. Elton John even joins the band on one of the tracks, playing piano on "Sick Love."
Short Takes
Barbra Streisand has recruited a string of Hollywood movie stars to sing duets with her on upcoming album "Encore." Chris Pine, Melissa McCarthy, Hugh Jackman, Anne Hathaway, and Jamie Foxx are among those singing with the superstar on her 35th album, out in August. … Westwood's Geffen Playhouse has recruited Alfred Molina to star in its upcoming production of the Eugene O'Neill classic "Long Day's Journey Into Night." … Meanwhile, another O'Neill play, "The Hairy Ape," has been extended at West L.A.'s Odyssey Theatre after playing to packed houses.
Managing editor Sandro Monetti can be reached at smonetti@labusinessjournal.com or (323) 549-5225, ext. 200.
For reprint and licensing requests for this article, CLICK HERE.