Snapped Up
REAL ESTATE: Snapchat's network expands to keep pace with message app's growth.
Monday, June 20, 2016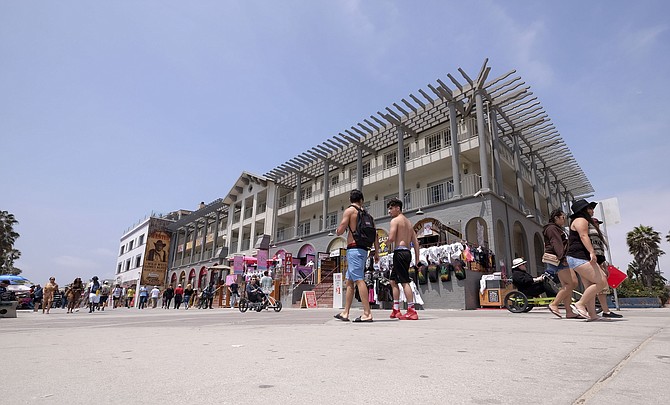 Boasting a gaudy valuation north of $17 billion and more daily users than Twitter, Snapchat Inc. is the biggest unicorn in Silicon Beach. It's also one of the hungriest consumers of real estate, snapping up leases for offices and residential properties in Venice and Santa Monica, turning its beachside neighborhood into a sprawling urban campus.
Determined to cling to Venice's counterculture despite the need for a corporate-scale workforce, Snapchat has opted to pick off properties here and there rather than consolidate into a single space. Its strategy can be seen in the series of deals it has struck over the last couple of months, including leasing an entire 25-unit apartment building at 29 Navy St.; 10,525 square feet of office space at 248 Westminster Ave.; and negotiating the lease of 80,000 square feet of office space at Santa Monica Airport. A firm connected to Snapchat also acquired 909 Ocean Front Walk in Venice, where Snapchat rents 5,000 square feet and is poised to take the entire 33,000 square feet.
Combined with the estimated 100,000 square feet it had already held in the market, the recent deals bring its footprint to more than 200,000 square feet.
Led by 26-year-old billionaire Evan Spiegel (No. 34 on the Business Journal's list of Wealthiest Angelenos with an estimated net worth of $1.6 billion), Snapchat is still in expansion mode and considering virtually all available office locations on the Westside.
Working with many real estate brokerages, the company has not shown an interest in buying or building from scratch, as Google Inc. and Apple Inc. have done in developing their Silicon Valley campuses.
Snapchat declined to comment on its real estate activity. A spokesman said via email that the company was not "announcing anything along those lines right now."
Growing pains
Snapchat might be reaching the end of its Silicon Beach land grab. By one estimate, it and Google have absorbed 20 percent of the Venice market, there's little room to build new offices of substantial size, and there are a slew of smaller companies hungry for extra room.
"You have all these startups that are now growing ... they've been 3,000 to 5,000 square feet, and now they need 15,000, 20,000, 30,000, or 40,000 square feet, and it's really hard to find," said Michael Preiss, a broker at rsfLA Inc. in Santa Monica.
He predicted that tech companies would begin to head east, possibly along the new light-rail line, but they would resist roaming too far from the beaches, bars, and shops of Santa Monica and Venice.

Prev Next
For reprint and licensing requests for this article, CLICK HERE.