Former Insurance Building to Get More Creative
SALE: Property acquired for $15.2 million in 2012 goes for $80 million-plus.
Monday, June 20, 2016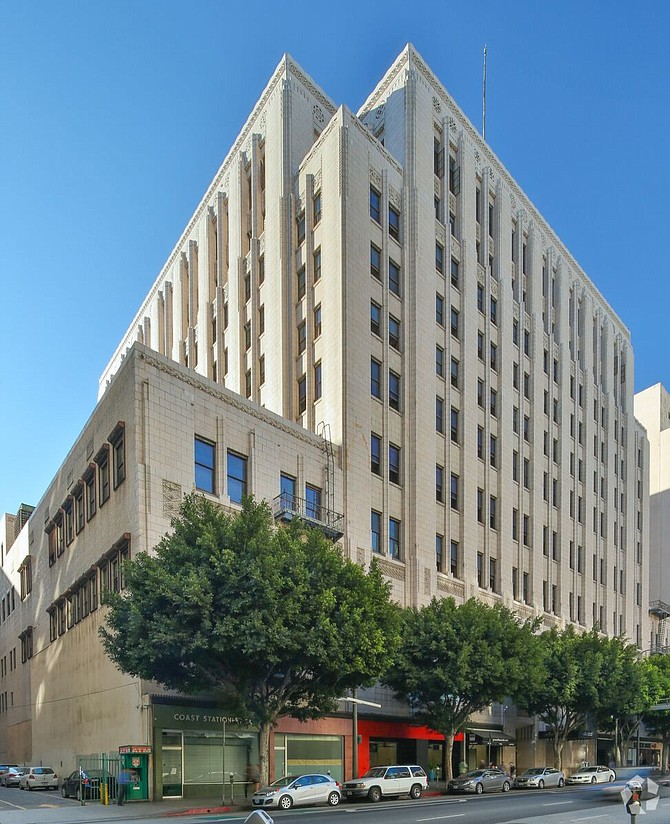 The Title Insurance Building downtown has been sold to Rising Realty Partners and Lionstone Investments in a deal valued at between $80 million and $88 million, or $250 to $275 a square foot.
The seller, Beverly Crest's Capital Foresight, bought the property in 2012 for $15.2 million, or about $51 a square foot, according to CoStar Group Inc. The plan had been to work with developer Izek Shomof to convert the building into 200 condos. But that relationship soured, and the chance to nail a high return might have also prompted the change of direction.
Architecture firm Gensler has been retained to design the art deco complex's renovation into innovative offices.
The site is one of the last large historic buildings downtown that has not yet been fully renovated, said Cushman & Wakefield's Mike Condon Jr., who marketed the property with Jones Lang LaSalle's Javier Rivera.
"With a building like the Title Insurance, you have an opportunity to come in and with one fell swoop transform a whole block," Condon said.
Rising has tackled similar office modernizations at downtown's PacMutual building and One Bunker Hill. It also recently bought the Garland Center, west of the 110 freeway, in a $210 million deal.
"I think Rising has better optics than just about any developer in the market when it relates to creative office," Condon said. "They know what's actually going on in the underbelly of the market. As opposed to waiting to see leases get signed, they know the leases are actually coming. That gave them the confidence to close the deal."
Built for Title Insurance and Trust in 1928, the 320,260-square-foot building features art by famed muralist Hugo Ballin, mosaic ceilings, bronze light fixtures, and marble hallways. Equipped with large floor plans and 28-foot ceilings, the Historic Core property is ripe for the conversion to the spacious layouts coveted by many companies.
Other Historic Core buildings have also seen values jump as revitalization sweeps through downtown. The San Fernando apartment property in the Old Bank District sold last week for $37 million, or $356 a square foot, and is slated for renovations by buyer MWest Holdings. In March, the Foreman & Clark building in the Jewelry District sold for $52.5 million, or $413 a square foot. Buyer Bonnis Properties plans a major renovation. 
Popping Up
Tech startup FreedomPop has doubled in size, taking 12,000 square feet in Westwood on Glendon Avenue. The wireless internet provider relocated from the ground level of a shopping center on Olympic Boulevard in West Los Angeles, where it became crunched for space after expanding its workforce amid three funding rounds.

"We had Westwood on the radar for quite some time," said Grant Newman, executive director of L.A. Realty Partners, who represented FreedomPop.
"After we couldn't expand naturally and do more creative space – standalone, brick, bow-truss, etc. – we went vertical, but only because we could get a rooftop deck."
That deck is exclusively designated for FreedomPop, making it a rare find in Westwood, according to Newman. The building, 1100 Glendon, sold to Douglas Emmett and Qatar Investment Authority in March as part of a portfolio deal valued at $1.34 billion. The purchase made Douglas Emmett the biggest office owner in Westwood.
FreedomPop's new neighbors include law and private equity firms, and corporate consultants, making it a more traditional climate compared to Silicon Beach's bustling startup scene.
In other leasing news, Post Advisory Group is decamping from Santa Monica's Water Garden. Needing to expand, the financial services firm will relocate to Century City's Century Plaza Towers in a 10-year deal for 17,700 square feet. Andy Lustgarten and Mark Sullivan at Savills Studley represented Post; CBRE's Amanda Calof represented Century Plaza Towers.
Industrial Impact
Irvine-based developer Goodman Birtcher has acquired a pair of massive distribution centers in southeast and east Los Angeles with an estimated value of $240 million, or about $115 a square foot. The Santa Fe Springs and El Monte sites total roughly 133 acres and were sold by Albertsons Cos. Inc. for an undisclosed price. Goodman Birtcher – one of the most active developers of large-scale industrial facilities in the United States in the past few years – plans to redevelop the two centers, which are used by Safeway Inc. and Vons. Jones Lang LaSalle's Louis Tomaselli, Zach Niles, and Mark Detmer advised on the transactions.
Staff reporter Daina Beth Solomon can be reached at dsolomon@labusinessjournal.com or (323) 549-5225 ext. 237. The Orange County Business Journal's Mark Mueller contributed reporting.
For reprint and licensing requests for this article, CLICK HERE.