Fish Tale's Sequel Expected to Scale Box Office
FILM: 'Finding Dory' seen as next Pixar production to buoy parent Disney.
Friday, June 10, 2016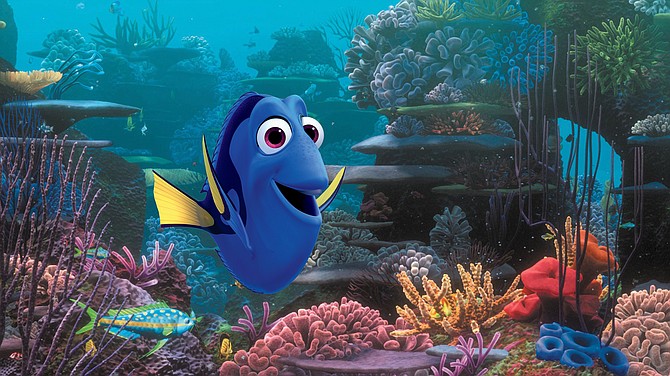 It might be the summer of sequels at the box office, but no follow-up film this season has been as highly anticipated as Walt Disney Co.'s latest Pixar movie, "Finding Dory."
The film dives into theaters Friday and is expected to add significant value to a new deal with streaming platform Netflix for exclusive rights for Disney's new releases this year.
This first-of-its-kind deal cost a reported $300 million and sees new titles from Disney and its Marvel, Lucasfilm, and Pixar divisions, beginning with "Captain America: Civil War," available for streaming only on Netflix starting in September.
While Netflix would not disclose the window for the exclusive rights, analysts believe it will stay in effect through 2018. In addition to its exclusive rights for new films, Netflix will maintain its nonexclusive catalog of classic Disney films.
"Finding Nemo" took in a mighty $937 million worldwide, won the Academy Award for Best Animated Feature in 2003, and became the best-selling DVD of all time.
The long-anticipated follow-up, with characters voiced by Ellen DeGeneres, Albert Brooks, and Ty Burrell, is expected to open domestically with $108 million this weekend, according to BoxOfficePro.com
"Finding Dory" ranked as the most anticipated family film of the summer on a survey of filmgoers conducted in April by West L.A. ticketing site Fandango.
Pixar profits
The Pixar studio, acquired by Disney in 2006 for $7.4 billion, has been a profit-making machine, especially considering the staying power of revenue streams such as subscription video on-demand and DVD sales after films leave the theater.
Pixar's biggest domestic earners since then have been last year's "Inside Out" ($356 million domestic) and 2010's "Toy Story 3" ($415 million domestic).
But 2015 release "Good Dinosaur" was one of the first Pixar films to struggle in theaters, taking in only $123 million domestically with an estimated budget of $200 million. And demand for animated films might be diminished given the saturated marketplace.
Still, analysts agree that even a "flop" for Disney is typically profitable.
"Disney has the best margins in the industry and has been growing the studio very fast," said Tony Wible, a New York-based analyst at Drexel Hamilton.
He noted that margins are typically more than 20 percent on Disney films. The studio is looking to build on momentum from such recent successes as "Zootopia," "Civil War," and "The Jungle Book." Analysts agree that even if the last Pixar film that came out wasn't a favorite, moviegoers will still come out for "Dory."
"Not only is it going to play to the kids right now, but also for the kids that watched it for the first time 13 years ago," said Erik Davis, managing editor at Fandango. "The Pixar brand always wins out."
Sequels, stumbles
"Dory" is expected to be the biggest film of the summer, according to both industry analysts and Disney.
"'Finding Dory' is one of the most anticipated films," said Dave Hollis, executive vice president of distribution at the Burbank entertainment empire. "It's the next chapter in this great story."
He expects that it will be a hit with general audiences and families, and notes that Pixar films have traditionally performed very well in June.
"But if you make a branded, high-quality movie, it can be released at any time and do well," he added.
But not all sequels live up to the hype. Recent disappointments include Paramount Pictures' "Teenage Mutant Ninja Turtles: Out of the Shadows," which opened to $35 million earlier this month – a drop of $30 million from the previous "Turtles" film opening in 2014.
Disney stumbled with one of its own sequels last month in "Alice Through the Looking Glass," which failed to live up to expectations and opened with $26.9 million domestically on a $170 million budget.
"Regardless of what 'Alice' did, 'Dory' and Disney overall will break records this summer," said Fandango's Davis.
For reprint and licensing requests for this article, CLICK HERE.