N.Y. Hotel Developer Checking Into Downtown
HOSPITALITY: Demand for rooms near Convention Center spurs large project.
Friday, July 29, 2016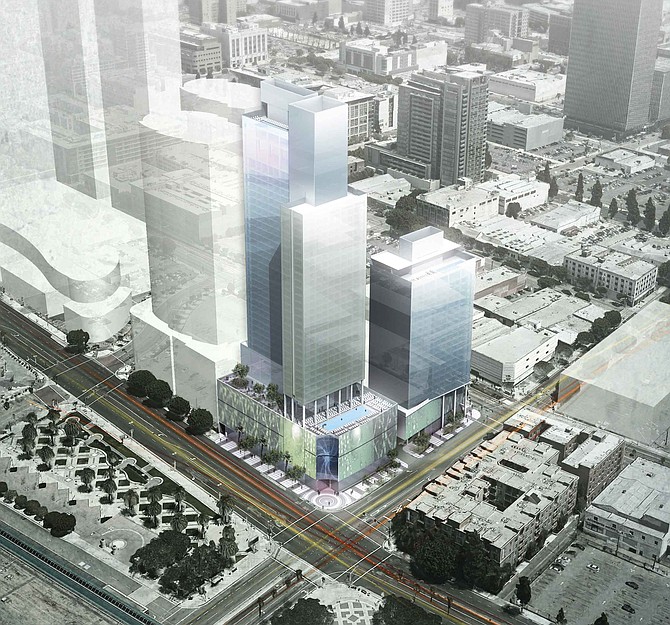 Lightstone Group is moving forward with plans to build a $450 million hotel with 1,100 rooms across from the Convention Center. The New York developer recently submitted its application to city planners for a Gensler-designed project of two towers, one of 40 stories and the other of 28, which would be run by three hotel brands.
Dubbed Fig+Pico for its spot on the corner of Figueroa Street and Pico Boulevard, the hotel is slated to include six levels of parking, 20,000 square feet of retail, three pools, bars, and restaurants.
"We think there is a great demand for hotel rooms downtown today," said Mitchell Hochberg, president of Lightstone. "When the Convention Center expansion is finally built, that demand will increase."
L.A. city officials began working on Convention Center expansion plans last year after learning that downtown would not become home to a new football stadium. Officials last summer selected architects to design increased meeting and exhibition space and add a 1,000-room hotel at a cost of $470 million. Then, early this year, the city began considering a new proposal that would build bigger facilities in partnership with private developers. Anschutz Entertainment Group was slated to build a 755-room expansion to its Ritz-Carlton and J.W. Marriott tower, but last month abandoned the project, claiming that the city's plan for an even bigger hotel would infringe on AEG's property rights.
Hochberg said some developers want to see convention center upgrades underway before building hotels, even though the extra rooms could attract bigger conventions.
"There's a chicken and egg with the Convention Center," he said. Hochberg is eager to jump in now, believing the center's expansion is just a matter of time and that his plans are in sync with city goals to supply the South Park area with 8,000 rooms. Hochberg aims to start construction on the 1.15-acre site in 2017. But progress will hinge on a transient occupancy tax rebate from the city.
"It's impossible today to build a hotel of this scale downtown without city incentives," Hochberg said. He declined to disclose the cost of the land, which includes a parking lot and restaurants Hooters of America and El Compadre. Lightstone just opened an L.A. office with plans to build hospitality and residential projects in the market, and has already identified a possible Hollywood site to build a second hotel.
Playa Vista Venture

A pair of Playa Vista offices built during the bottom of the market in 2009 are slated to sell for $425.8 million, or $850 a square foot, according to a source working in the market. The buyer expected to pick up the silvery buildings on Bluff Creek Drive from JP Morgan Chase & Co. is Edward J. Minskoff Equities of New York. A representative at Minskoff declined to comment. JP Morgan, represented by Eastdil Secured, could not immediately be reached.
JP Morgan picked up the Bluff offices, called Horizon, for just under $300 million, or less than $600 a square foot, from Lincoln Property Co. in 2011, when Playa Vista values were rocky in the wake of the recession. While the new price tag marks an office record for Playa Vista, it's possible that a looming expiration date on a lease for the majority of the property prevented the price from going higher. Fox Interactive Media signed a lease in 2008 for 90 percent of the complex that runs through 2021, but was forced to pull back its presence after the financial crash. It now subleases all but one floor, said Cresa broker Dave Toomey, who brought in several subtenants on the Fox lease.
"From a landlord's perspective, that's not a good situation that 90 percent of your complex expires on one day," he said. "If none of those tenants chose to renew, you've got a problem."
The buildings are set to trade a hair higher than the recent deal for Playa Jefferson. The four-building office campus that is home to Facebook's regional operations sold for $165 million, or $843 a square foot.
Westlake Windup
MWest Holdings of Sherman Oaks plans a $1 million renovation at the 92-year-old Park Wilshire apartment building in Westlake near MacArthur Park, which it recently acquired for an undisclosed amount. Greg Harris, Ronald Harris, Paul Darrow, and Joseph Grabiec of Marcus & Millichap's Institutional Property Advisors represented MWest in purchasing the 170-unit site from Montgomery Partners, based in Mill Valley. MWest recently upgraded apartments at the Wilshire Royale and Hollywood Tower, and is now renovating downtown's San Fernando Building, which it purchased last month for $37 million.

Staff reporter Daina Beth Solomon can be reached at dsolomon@labusinessjournal.com or (323) 549-5225 ext. 237.
For reprint and licensing requests for this article, CLICK HERE.