Knockout Opportunity
FITNESS: Sale of UFC to WME/IMG may boost franchising.
Friday, July 29, 2016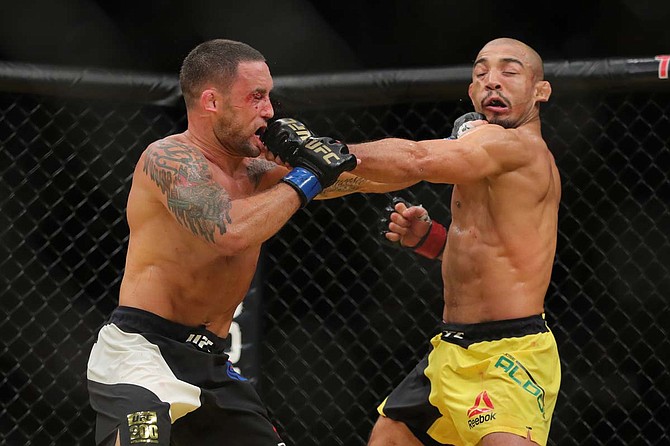 The $4 billion deal struck last month between Ultimate Fighting Championship and WME/IMG has the mixed-martial business' chain of branded gyms feeling it has another weapon in its arsenal.
UFC Gym, the Santa Ana-based operator and franchisor of the fitness centers, aims to nearly triple the more than 130 locations it already has in its corner by expanding franchising efforts over the next few years. Though the plans were in place before the deal with Beverly Hills' WME/IMG, the gym operator is confident the deal will help that push.
"It's an incredibly exciting time for the UFC brand and an equally exciting time for UFC Gym," said Brent Leffel, chief executive of UFC Gym, a joint venture of UFC and New Evolution Ventures. "I think the transaction will do nothing other than increase the visibility of UFC Gym and allow us to expand our footprint even further."
Leffel said attracting franchising commitments – from both existing franchisees and outside prospects – remains key in this stage of the gym's expansion effort.
"We're growing very rapidly in Southern California – and we have a large number of gyms in the region that are either under construction or expected to go into construction shortly," Leffel said, adding that he's not at liberty to announce specific locations.
The power of an expanding brand – and the backing of a new parent that is a leader in the sports marketing field – may help, but marketing gym franchises is far different than representing film talent or developing sports leagues.
"Franchising is a different animal," said Edward Kushell, president of Franchise Consulting Group based in Century City. "It's not just getting involved in the gymnasium business or the martial arts business – it's getting involved in the business of relationships."
Kushell said the high cost of franchises requires careful attention to the existing relationships between franchisees and franchisors. "The due diligence needs to happen before the acquisition," he said.
Prospective franchisees should have at least some comfort with the due diligence process: buying in requires a minimum of $350,000 in liquid assets and a net worth of $1 million. The cost to open a gym runs from awthe size of the venue.
Kushell said that when large investments similar to WME/IMG's UFC acquisition are made, private equity firms involved often amend the services provided to franchisees in order to recoup the investment by cutting costs.
A representative of WME/IMG, led by Ariel Emanuel and Patrick Whitesell, declined to comment on the acquisition's impact on UFC Gym.
Sizing up
UFC Gym was formed in 2009 as a joint venture between the UFC and New Evolution, a health and wellness focused private equity group formed by the founders of 24 Hour Fitness. Leffel is president of the Lafayette-based PE firm.
The partners set up UFC Gym by siting large full-service facilities of about 35,000 square feet each in California and Hawaii. Nearly four years later they took their first jab at aggressive expansion when they acquired the now-defunct LA Boxing.
The company grew its presence from five to nearly 100 locations in the United States and Australia. But the deal for LA Boxing came with facilities that were significantly smaller – with an average area of only 5,000 square feet.
With a bevy of smaller boutique clubs suddenly under its belt, UFC Gym decided to operate the facilities using LA Boxing's in-place franchising platform – and the adopted business model stuck, for both franchisees and consumers.
"UFC athletes are some of the best-conditioned athletes in the world," Leffel said. "One of our core objectives is bringing to life that tremendous fitness undercurrent of the UFC in a way that allows all consumers to participate."
He noted that the gyms on average see an even number of male and female members, with children able to join the gyms as well.
While UFC Gym's elite training – available to anyone – may resemble the disciplined fitness regimen developed for the CrossFit program, the two differ in outreach. CrossFit's business model calls for affiliates, not franchises. And it has more than 13,000 affiliates – including both big-box gym franchises and small-box facilities.
UFC Gym has followed the route paved by Orangetheory Fitness and Pure Barre, both of which operate smaller venues of 2,500 square feet, on average.
The rapid expansion of smaller fitness studios isn't exclusive to brand-backed ventures such as UFC Gym. Research from Arkansas investment bank Stephens Inc. found that while growth in traditional health club memberships has remained flat, the number of smaller boutique facilities in the United States increased by more than 400 percent between 2010 and 2014, the most recent data available.
The study cited lower capital costs enabled by the studios' smaller sizes and flexibility around real estate locales as reasons for the popularity of boutique fitness clubs.
UFC Gym has 24 centers in Southern California, including nine in Los Angeles County. Three of those – Rosemead, Torrance, and La Mirada – are company owned.
"The focus is rapid growth and expansion – all over the world," Leffel said. "I'm excited for our future because I think the deal will only increase the opportunity we already have."
For reprint and licensing requests for this article, CLICK HERE.