Playa Vista Office Primed for $165 Million Sale
Friday, July 15, 2016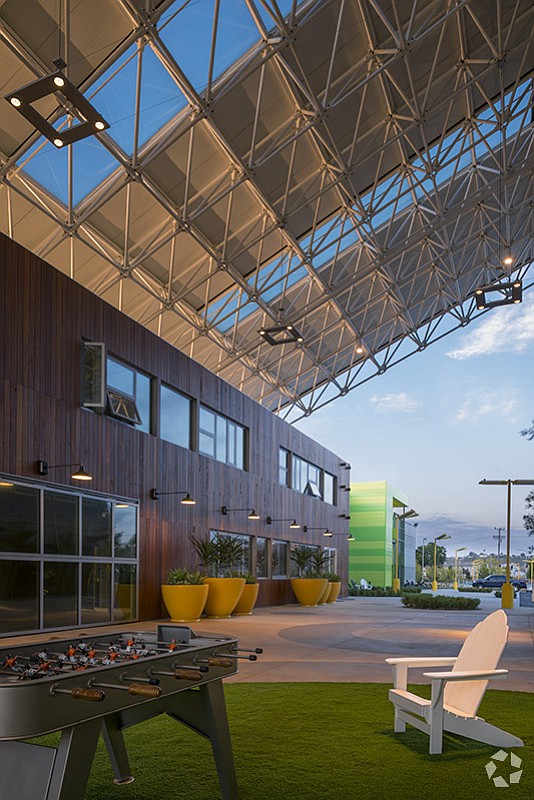 The Playa Jefferson office campus in Playa Vista is set to sell for $165 million, or $843 a square foot, putting it in league with Playa Vista's priciest office sales. Rockwood Capital is slated to pick up the 195,668-square-foot site in a deal closing next week, according to sources familiar with the transaction.
Vantage Property Investors had bought the site in 2011 for $33 million, back when numerous Playa Vista buildings were still under construction. Since then, the submarket has continued to boom as a tech hub.
Facebook nabbed a 50,000 square foot lease at Playa Jefferson in February, and the four-building complex is now full, including tenants R/GA, Omnicom, Arup, and Regus. A fifth building will soon be constructed, with entitlements secured to build 55,454 square feet.
Playa Jefferson fetched its high price point largely due to its location across from Runway Playa Vista, with retailers and eateries including Whole Foods, CVS, and Hal's Bar and Grill.
"It has the best location in Playa Vista from an office perspective," said Scott Selke, a senior managing director at Newmark Grubb Knight Frank, who led the debt and structured finance group on the deal. "There's not another office in all of Playa Vista that has such a central location to the Runway amenities set."
Playa Jefferson was marketed by brokers Kevin Shannon, Ken White, Scott Schumaker in Newmark Grubb Knight Frank's capital markets team. Its sale is another sign of Playa Vista investors cashing in on the maturing Silicon Beach market.
Rockwood plans a long-term hold on the site, said Shannon, president for West Coast Capital Markets at NGKF.
"Playa Vista is a place where a lot of people still want to plant a flag," said Shannon, adding that more than 100 potential buyers showed interest in the five weeks that Playa Jefferson was on the market. "It's a place where capital wants to be."
The Reserve offices, home to Sony and Microsoft, sold in January last year for $316 million, or $832 a square foot. The Runway Playa Vista mixed-use center sold in February for $475 million, with the office component fetching $746 a square foot. The Landing at Playa Vista, where one of the tenants is WeWork, is under contract to sell for $80 million, or $794 a square foot.
This transaction was first reported by the Real Deal.
For reprint and licensing requests for this article, CLICK HERE.